Alexis Sanchez long term Arsenal future in doubt
Will his substitute role last weekend edge him closer to The Emirates exit door?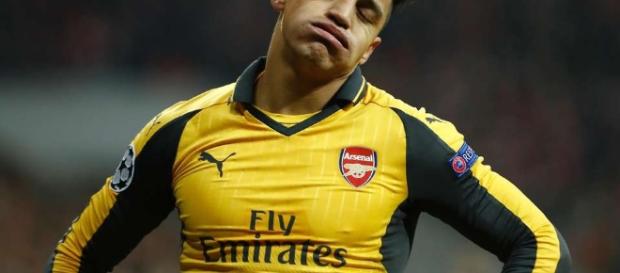 Alexis Sanchez's long term future at #Arsenal has been under some uncertainity for quite a while but perhaps the issue was made a little clearer last Saturday after only featuring as a substitute when The Gunners traveled to Anfield to take on Liverpool in an all important Premier League encounter. The decision not to start Sanchez would have had many watching the game scratching their hands as to why the Chilean international and quite arguably Arsenal's best player was not starting. Many felt that perhaps Arsene Wenger had lost the plot but then there was an interesting twist in the tale as news of a training ground bust up early last week then broke on Sunday.
It seems as if the relationship between club and player are at an all time low and are we now at the point where the damage which has seemingly done is irreversable?
Alexis could be saying adios in the Summer
The fact that Arsenal have not managed to get the fomer Barcelona player to sign a new contract will have obviously been cause for concern but this apparent spat will have no doubt rung alarm bells for everyone connected to the club. The board and manager will obviously want to tie down one of their biggest assets while the fans will be loathed to see the talents of Sanchez being plied elsewhere next season.
Italian giants Juventus are monitoring the issue with a keen interest and they will look to head the queue as a whole host of top European clubs will look to take full advantage of the apparent rift that has formed in North London over the past few days.
A lot will ride on whether Arsenal do reach the Champions League next season and also as to whether Arsene Wenger stays on as manager of The Gunners. From a players point of view they are not going to be in a rush to put pen to paper when their is still uncertainity in a club, it's quite apparent that the message comes from the top down and if that message is one lacking clarity regarding clubs managerial status going forward then it's ony going to lead to questions being asked from the clubs playing personnel.
The real issue is that the longer this continues and the saga is drawn out it could only be to the detriment of the club. Arsenal will probably count themselves fortunate that they are not in Premier League action this weekend and can buy themselves some time in regards to at least letting the apparent bust up blow over, but do not expect Sanchez to put pen to paper anytime soon. It seems as if the game of contract cat and mouse is set to continue, but the longer it goes for their star players' value will depreciate and then they will have to decide as to when they cash their chips in as otherwise they will risk Sanchez leaving the club nothing in just under 18 months time. It looks like there could very well be a period of turmoil in North London. These next few weeks and months could very well shape the clubs future for years to come. #Alexis Sanchez #Football