Massive opportunity for Jurgen klopps men to end twenty one year wait for Premier League title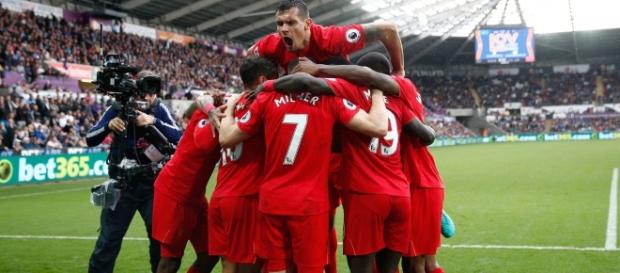 Title aspirations for Liverpool have often proved unrealistic for most parts of the last two centuries, but for a couple times when they threatened under the tenures of Rafael Benitez and Brendan Rodgers in the 2008/09 and 13/14 season to finally abolish that incredible statistic. This season, though, there is renewed cause for optimism in Liverpool ranks where Jurgen Klopp has his team playing some of the best Football in the country along with various other factors which could see Liverpool end their long wait for a Premier League title.
Liverpool attack the best
Following Liverpool's 6-1 demolishing of Watford at they crashed to the top of the League with the kind of scintillating performance which has become systematic of the majority of their performances this season.
The Hornets, like most teams to have faced the Reds, had no answer to Liverpool's attack which is currently the best in the country. The credibility of their rise to serious Premier league contenders with Title aspirations, cannot be underestimated.
Last season can definitely be defined by the overused word in football terms as a transitional period, with big wins over some of the Premier League's top teams coupled with dreadful losses to some of the less fashioned outfits. Two cup finals, albeit losses, gave a small insight into the potential Klopp could have in turning Liverpool into a successful trophy winning team again.
Home form decisive
Liverpool's home form is another decisive factor in this season's title race. The Reds are now unbeaten in their last 19 games at Anfield, recording thirteen wins and six draws since they lost to Stoke City in the league cup in January.
With Anfield now a fortress there is no opposition who will be happy to travel to Merseyside right now and it is this home form which could prove crucial this season.
Moreover, epitomized by Liverpool's 2-0 League cup win over Spurs the scousers can genuinely claim to have a quality squad with the strength in depth to go all the way. Against Spurs, Liverpool's standout performers were Origi and Sturridge both of whom cannot get into the first team at the moment though there is no shame in that. It does reflect the options the Reds now have in their squad - something they lacked last season.
Credit to the manager
Credit must go to the manager who made specific additions to the squad, identified the seven signings he needed which have added quality and Lloris Karius has added competition to the goalkeeping ranks which was sorely needed as Mignolet left many unconvinced. The young German has potential but is still new to the league and will get better. Defenders Matip and Klavan from the Germany have added real quality and depth to the defence though it is still susceptible.
Dutchman Wijanuldum has added tenacity and quality the midfield previously lacked. And Mane has added another dimension to the Reds attack with his pace and goal threat.
As well as this, Klopp has improved the individual performances of many who were already at the club, with the likes of Milner, Lovren, Can and Lallana reaching high levels of performance they previously had not shown.
We should also not underrate the importance that having no European football can have. Already the London and Manchester clubs have dropped points after midweek European fixtures and we should expect this trend to continue at various points throughout the season. The Reds will be hoping they can benefit. A club of Liverpool's stature should always be in European competition due to their history in competition but with none and the benefits of a stronger squad, this will no doubt impact on Liverpool's title chase. If the first team can sustain performance levels it can be a successful season and the Reds could finally end their twenty-one-year anguish for the title.
Click to read more
and watch the video
or