Illarramendi rejects Liverpool move
Asier Illarramendi has chosen to stay at Real Madrid and fight for a place in the first team.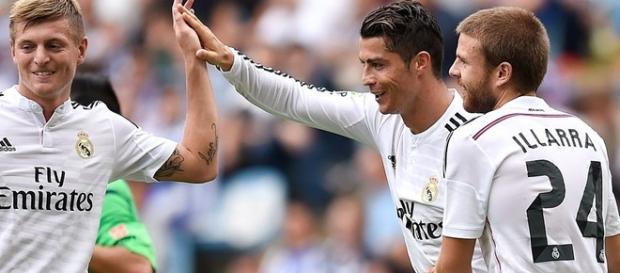 This week Asier Illarramendi has reportedly rejected an approach from #Liverpool in the hopes of claiming a first team spot at Real Madrid for the coming season, according to Marca. The 25 year-old midfielder earned himself a move to Los Blancos from Real Sociedad, after a number of starring displays during the 2012-13 season. However, since moving to Madrid, he has struggled to break into the first team only managing 15 starts in his debut season with the club and a meagre 10 starts under former Real Madrid boss Carlo Ancelotti in the previous campaign. Throughout the season just gone, the midfielder was said to be desperate for playing time and it was believed by multiple sources that he would leave the club in search of first team #Football.
Illarramendi's reported decision to stay at the club comes off as somewhat surprising given the fact that he faces competition from the likes of Casemiro, Isco, Lucas Silva, Luka Modric and Toni Kroos for a spot in the starting XI. New Real Madrid head coach Rafael Benitez is said to have placed his trust in Illarramendi, seeing qualities in him that he also saw in Xabi Alonso, a former Real Madrid midfielder, who worked with Benitez whilst he was at Liverpool.
Liverpool can afford to offer Illarramendi first team football which is something that he'll relish. However, unlike his current club Real Madrid, Liverpool can't provide Illarramendi with Champions League football, which is something that he'll likely not want to miss out as he's won the competition before. Illarramendi would have to sacrifice virtually guaranteed football in Europe's elite competition in order to get more playing time at Liverpool.
Though he has proven that he is a player worthy of playing amongst Europe's best.
Illarramendi has also been linked with Arsenal, despite the recent news where any hope that they had of signing him has been dented. Liverpool have already made major reinforcements, signing James Milner and Roberto Firmino and have adequate cover in their midfield positions, so it's arguable that the transfer of Illarramendi isn't necessary. However he still remains an immensely talented defensive midfielder that could add a lot to Liverpool's squad.  #Premier League