Gorecka Tames The Arctic Conditions To Take Women's Title In Edinburgh
Emelia Gorecka claimed the senior women's title in the Great Edinburgh International X-C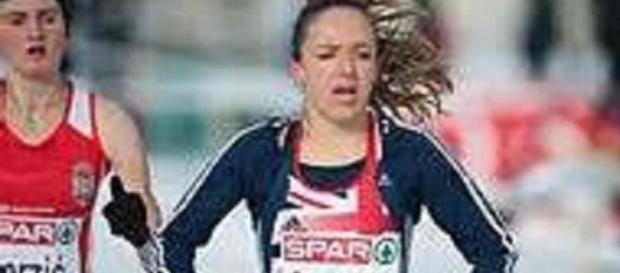 After a disappointing performance at the recent European Cross-Country Championships, Britain's rising distance star Emelia Gorecka tamed the near arctic conditions at a wintry Holyrood Park to claim the prestigious senior women's title at the Great Edinburgh International Cross-Country meeting. Edinburgh's weather was typical of much of Scotland over the last few days, as fans and athletes were keen to wrap up and find warmth, but it did not prevent the young lady from defeating a talented field that had been assembled by the organisers.
Gorecka, a former winner of the junior women's race in Edinburgh, ran perhaps the best race of her career so far to claim victory by a seven seconds' margin and relegate former senior race winner Fionnuala Britton of Ireland into second place, with the Ethiopian (now representing Spain, but running for Europe here) Trihas Gebre back in third. Gorecka made her effort with one kilometre to go and quickly built up a decisive lead that she extended by the finish. It represented a marked improvement on her 12th placing in Bulgaria at the Euros, where she was beaten by several of the ladies behind her in the Scottish event. Britain's next finisher was Lily Partridge back in seventh place. For Euro champion and last year's race winner, Gemma Steel, who was expected to feature strongly in the race, things did not go to plan. She was already adrift of the leaders as they entered the second part of the race and could not respond afterwards, finishing well back in eleventh place.
The men's race over an eight kilometre distance saw the returning American Chris Derrick retain the title he had won last year, as he was able to sustain the challenge from his teammate Jacob Riley in second, as the Americans dominated the top placings with six in the top ten. There was some cheer for the Brits further down the field, with Jonathan Hay third and Charlie Hulson fifth.
The shorter men's 4km race also saw a repeat of the result twelve months ago, as another American Garrett Heath successfully defended his title. Tracking Kenya's former Olympic and twice world 1500m champion Asbel Kiprop through the opening part of the race, as the muddy conditions held the pace of the race back, he was always in contention. At the halfway point the leaders also included world cross-country champion Japhet Korir and fellow Kenyan Thomas Longosiwa, with previous winner Augustine Choge closing on the front group. Heath made his move shortly after with only Korir for company initially, but even he had to yield as the American piled on the pressure and moved well clear by the finish. First British finisher was Tom Lancashire back in fifth position, just behind Kiprop.
Overall, it was a slightly disappointing event for the Great Britain athletes in the tri-nation team event, as they finished a distant third behind victors the United States, with the combined team from Europe taking second place. The team title was decided by the results across both of the longer distance senior races as well as the two junior events decided earlier in the afternoon, which were won by Italy's Yemaneberhan Crippa in the men and America's Makena Morley in the ladies. #Athletics