Star Sports, Hotstar live streaming India vs New Zealand World Cup Warm-up
Don't miss our Facebook page!
Like Blasting News page on Facebook: we will keep you updated with all the latest news.
The build up to the start of the new season and West Ham's opening game against Tottenham has gradually become dominated about questions over the future of Sam Allardyce. As manager of the Hammers he got the team promoted from the Championship in 2011-12 and followed this up by a tenth placed finish in their first season back in the top flight and a thirteenth placed finish last time around. Despite what can bee seen as a successful time in charge of the club there have always been questions regarding his future and they have all mostly been centred around the style of Football that the team has been playing under Allardyce but some will be asking 'If it ain't broke, why fix it?'
The real roots of the current criticism of West Ham's playing style come from the club's history and the current lofty ambitions of the club's owners.
Starting first with the history, the fans have always had a demand to see football played in the 'West Ham way,' focusing on good football and bringing through exciting young players and in truth there hasn't been much of either in the last few years. It should be remembered though it was only a matter of a few years ago that the club were in desperate trouble off the pitch when they were purchased by the trio of David Gold, David Sullivan and Karen Brady and it was always vital that they put stability ahead of anything else including the style of football.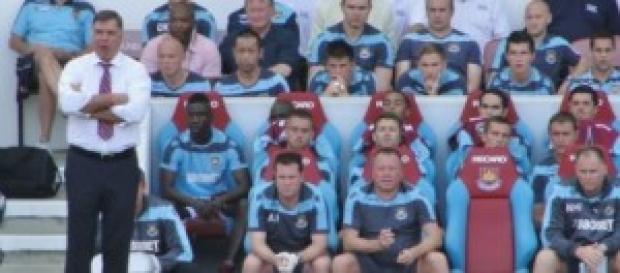 It seems to be the case now though that with a move to the Olympic stadium on the near horizon that the focus has shifted and Sam Allardyce's tactics will come under scrutiny as a result.
The talk of a need to change playing style isn't just an unfounded rumour or talk amongst the fans as the transfer activity during the summer has demonstrated. Both of West Ham's signings have been strikers - Mauro Zarate and Enner Valencia have joined and there are even rumours that they are in the market for more goalscorers before the transfer window shuts.
Not only have players been recruited to help try and steer West Ham to a new attacking brand of football, the back room staff has also been attended to with Teddy Sheringham coming in as an 'attacking coach.'
All of this concerted effort to bring free flowing football to West Ham will be uncomfortable for Sam Allardyce but is something he will need to try and deal with because the evidence is that he will come under pressure if he does not. Some players already at the club will also have some adapting to, Winston Reid for example proved to be a vital asset to the team last season under a more defensive style of football so it will be interesting to see how he fares under a new system.
This season is a great unknown in many ways for West Ham fans because the great football could arrive along with success but equally it could fail to materialise and they could be looking for a new manager early on in the season. What is not in doubt is the level of ambition of the club's owners, the fact that Enner Valencia was quoted as saying he wants Champions League football with West Ham shows the incredibly unrealistic targets that continue to be coming from the top and may do more harm than good.
I have a horrible feeling that this could be another case of 'be careful what you wish for.' In the 2009-10 Premier League Sam Allardyce led Blackburn to tenth in the Premier League, the following season he was sacked because the owners wanted more attractive football - they are now preparing for their third consecutive season in the Championship. 2014-15 Prediction: 19th (relegated).
Click to read more
and watch the video