Celebrities support Leslie Jones as she quits Twitter due to severe racist abuse.
The Ghostbusters actress and stand-up comedian has quit twitter with a "tears and a very sad heart."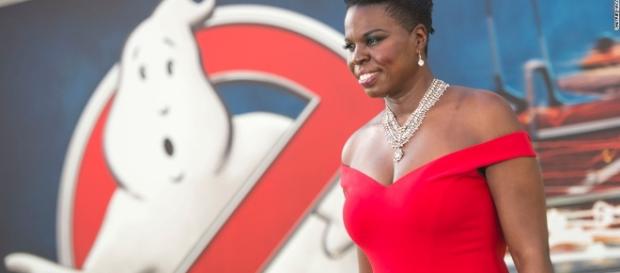 Celebrities have rallied around Leslie Jones after she quits Twitter due to vile racist abuse.
The comedian has experienced weeks of racism through Twitter since the remake of Ghostbusters, in which she stars as subway worker Patty Tolan, was released.
 Whilst many have been critical of the all-female remake, Jones has received particularly negative attention due to her race. 
After being targeted with unrelenting racism, Jones decided to "expose" her trolls by retweeting their messages, which included likening Jones to apes and abhorrent racial slurs.
She has since been greeted with a wealth of support from fans and celebrities alike with the #LoveForLeslieJ hashtag trending on twitter.
I leave Twitter tonight with tears and a very sad heart.All this cause I did a movie.You can hate the movie but the shit I got today...wrong

— Leslie Jones (@Lesdoggg) July 19, 2016
Original Ghostbusters star Dan Akyroyd, who plays Ray Stantz in the 1984 film, has leapt to the defence of Jones branding her trolls nothing but "insignificant gnats."
Director of the new reboot, Paul Feig directly tweeted Jones a heartfelt tweet, reminding her that "she did nothing to deserve this.
The internet is filled with good people but there are a few pieces of shit out there."
Leslie Jones is one of the greatest people I know. Any personal attacks against her are attacks against us all. #LoveForLeslieJ @Lesdoggg

— Paul Feig (@paulfeig) July 18, 2016
Scandal star, Kerry Washington also tweeted her support for the actress. "Wow. Yet another example HURT PEOPLE. HURT PEOPLE", she tweeted. "Intolerable trolling. So much ignorance & hate. I Stand with #LeslieJones #LoveforLeslieJ".
Emmy awarding winning actress Viola Davis expressed solidarity with Jones, posting an image of the actress and referring to her as "sis."
Wow. Yet another example: HURT PEOPLE HURT PEOPLE. Intolerable trolling. So much ignorance & hate. I stand with #LeslieJones #LoveforLeslieJ

— kerry washington (@kerrywashington) July 20, 2016
Fellow comedian, Amy Schumer warned that Jones "will be back with a vengeance" and praised her strength, beauty and hilarious nature.
She was not alone in this opinion, with Jane Lynch retweeting her and adding a simple "Love for @Lesdoggg".
@Lesdoggg.....I stand beside you sis. I see you...your beauty, your talent, your power. #LoveForLeslieJ pic.twitter.com/X9aNKrCYcQ

— Viola Davis (@violadavis) July 21, 2016
.@Lesdoggg is hilarious and strong and beautiful and she will be back with a vengeance I can't wait for you to see what she is capable of

— Amy Schumer (@amyschumer) July 19, 2016
Pitch Perfect star Anna Kendrick chose not to give the trolls any more attention opting instead to focus on Jones' recent success.
Love for @Lesdoggg #LoveForLeslieJ https://t.co/Xa3F6OspFC

— Jane Lynch (@janemarielynch) July 20, 2016
James Corden, Olivia Munn and Elizabeth Banks followed suit and kept their tweets focused purely on their love for Jones.
Just left @Ghostbusters and had SO MUCH FUN! That sequence in the smoke was everything!! #AnswerTheCall #GirlsKickingAss #LoveForLeslieJ

— Anna Kendrick (@AnnaKendrick47) July 19, 2016
@Lesdoggg Simply, I love you 😘

— Elizabeth Banks (@ElizabethBanks) July 19, 2016
I absolutely LOVE @Lesdoggg And so does everyone I know. I hope she can feel that right now x x x

— James Corden (@JKCorden) July 19, 2016
#LoveforLeslieJ All Day ❤️❤️❤️

— Olivia Munn (@oliviamunn) July 19, 2016
Many celebrities took to Twitter to lambast her trolls and Twitter's treatment of the racist abuse.

Former Disney child star of Wizards of Wavery Place,Jake T.

Austin expressed his upset at how celebrities are treated on Twitter. "Twitter used to be a safe place for celebs & fans to interact", he writes, "but the way that it's been used against @Lesdogg is disgusting and hateful."

Chrissy Teign shared similar views directly tweeting Twitter urging them to take action.
Twitter used to be a safe place for celebs & fans to interact but the way that it's been used against @Lesdoggg is disgusting and hateful.

— Jake T. Austin (@JakeTAustin) July 19, 2016
I love you, @Twitter. I love you so much. But please get it together. Stand up for your users who deserve better.

— christine teigen (@chrissyteigen) July 19, 2016
At the least, delete the account. ANYTHING to show you give a damn would be nice. https://t.co/CqLTJpWxwi

— christine teigen (@chrissyteigen) July 19, 2016