Stelling puts his best foot forward for prostate cancer awareness
Sky's football anchorman has committed himself to a ten-day charity walk from Hartlepool to Wembley.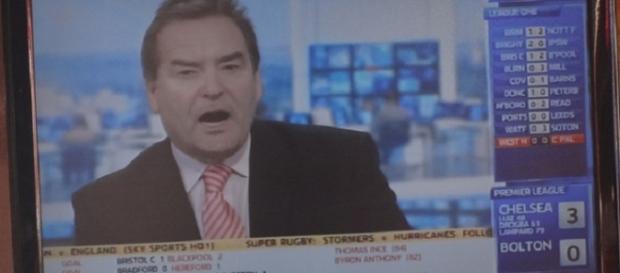 Jeff Stelling's beloved Hartlepool United may not be visiting the hallowed turf at Wembley this season, but the Sky Soccer Saturday anchorman intends to see Wembley's distinctive arch for himself at the end of a charity fundraiser in March. The well-respected guiding voice on the dedicated Football programme has announced his involvement in an ambitious ten-day walk from the North-Eastern town to the home of the England national football team, with the aim of beating prostate cancer.
'Men United March'
The project has been labelled as "Jeff Stelling's Men United March", recognising the ongoing efforts to defeat prostate cancer by Prostate Cancer UK.
'Men United' are an existing movement that encourage men to get together and get involved in efforts designed to fight the cancer that affects men everywhere in society. With one man an hour still dying from prostate cancer, it is clearly a deserving cause that needs more funds and an improvement in public awareness.    
With an estimated 26 miles walking planned each day over the ten-day duration, the Sky stalwart will need all the support he can from his followers and from the general public he encounters during his travels across the country.
Visiting football grounds
In keeping with the day job of the former Countdown host, the sports presenter's lengthy trek will take in 30 football club grounds en route. The first five days will see his cavalcade pass York City, Leeds United, Derby County and Nottingham Forest's grounds among others.
Days six to nine incorporate hiking past the likes of Midlands clubs Aston Villa and West Brom, taking in Premier League leaders Leicester City, before heading south.
His final day on foot will see Stelling visit the stadiums of Fulham, QPR and Chelsea, before Wembley (hopefully) ends his triumphant quest.
Celebrity involvement
With Celebrities and many of the analysts that feature on the weekend stats-laden show planning to join in on the fun along the way, it promises to be an exciting and entertaining stroll down to London. Fans can expect the likes of former players and modern-day pundits Paul Merson, Matt Le Tissier and the effervescent Chris Kamara to add their support and encourage the 60-year-old on his way.
Botham's advice
Stelling has already discussed his project with a legendary sportsman who has become almost as famous for his epic charity walks as he was during his esteemed cricket career.
None other than Sir Ian Botham has been consulted, although his advice to avoid washing his feet in the build up to the event – with the intention of toughening them up – may take some adhering to in the Stelling household from a personal hygiene point of view.
How the fundraising can help
Keen to know how the funds will benefit men across the nation, Jeff has previously spoken with Iain Frame, the Director of Research at Newcastle University. He learned of the key part that scientists play at 'Men United' and how the money raised is invested in cutting edge research.
One of the key points that Stelling gleaned was that "trying to find a more sophisticated way of diagnosing it in the first place is key."
Jeff's journey through the heartlands of England takes place from 21st to 30th March 2016. The public are encouraged to either sponsor Jeff personally or get involved in assisting him on his way, by signing up to accompany him on the walk or to help collect money for the charity event.