Faced with Boko Haram, Cameroon recruits 1,800 commandos
Commandos of Cameroon's elite force - Rapid Intervention Battalion, BIR, are among the most professionally trained in Africa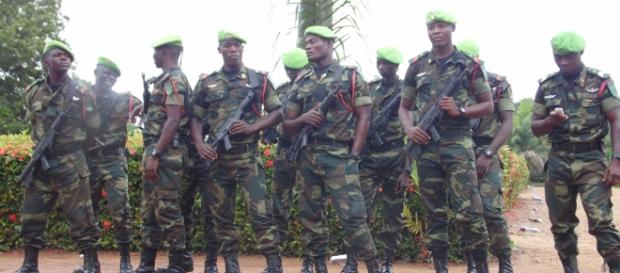 The Government of Cameroon has announced it will be recruiting 1,800 commandos into the elite unit of the armed forces – the Rapid Intervention Battalion, #BIR. Joseph Beti Assomo, Minister Delegate at the Presidency in charge of Defense, disclosed the development in a communiqué he issued over the weekend. According to the communiqué, the special recruitment exercise of young Cameroonians into the BIR will take place across the ten regional headquarters in the country from January 7 to February 16, 2017.
Selection criteria
Prospective BIR commandos must be Cameroonians by nationality, be single and between the ages of 18 and 23, the communiqué specified.
They also have to be holders of at least a First School Leaving Certificate, FSLC, be enjoying their civic rights and must be 1.66m tall and above. Candidates are expected to drop their complete application files at the various Military Sectors. An official of the BIR at Man O'War Bay in Limbe; the BIR's main training and instruction centre, told Blasting News that the recruitment exercise will entail rigorous medical and physical aptitude tests. During the last BIR recruitment exercise, conscripts underwent a 20km test race carrying 20kg bags of sand each. They also took on a 10km race without load as well as a military walk in small teams carrying heavy poles. Muscular activities featured too on the selection test.
Cameroon's war efforts
Cameroon is boosting its Army's manpower at a time the country is engaged in a war against the Nigerian-based terror group, Boko Haram.
The Multi-purpose Response Squad of the National Gerdarmerie, GPIGN, the Motorised Infantry Battalion, BIM, and the Israeli-trained Rapid Intervention Batallion, BIR, are the main units of the #Cameroon Army pushing forth the war efforts. Boko Haram has been launching spades of attacks on Cameroon territory since 2013, but the BIR in particular has been succeeding in repelling such attacks. We learned the commandos are armed with American and Israeli assault and sniper rifles, 50mm heavy machine guns, 105mm cannon and mortars, amongst others. #Commando