Britain will not increase threat level
Prime Minister delivers speech in French after last night's Paris attacks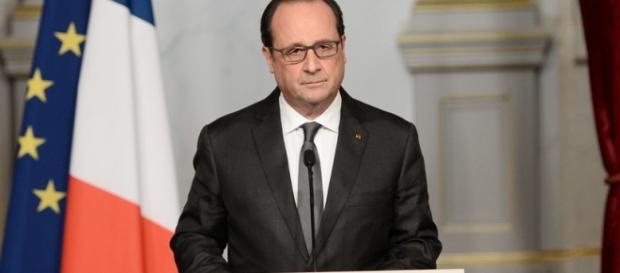 The Prime Minister has said that Britain would not be increasing its threat level despite the series of terror attacks in Paris last night.
David Cameron made his remarks after an emergency meeting of the Cobra Cabinet committee, but it was revealed that although the scale of attacks was far greater than anything seen in recent years, the level of threat was not increased from 'severe', the second highest level, meaning that an attack is 'likely'.
The highest level, 'critical' is only used when a terror attack is deemed to be imminent.
In his speech following the Cobra meeting, Cameron delivered part of his speech in French as a mark of solidarity.
Tensions are high in Britain because the wave of attacks in the French capital came just a day after the reported killing of 'Jihadi John', the high-profile Islamic State executioner. Although Britain is not directly involved in action in Syria, it is one of the key players in the fight against the so-called Islamic State.
Just minutes after French President Francois Hollande had blamed the attacks on Daesh, the terror group claimed responsibility, blaming French involvement in Syria.
They called on all French supporters, who were not able to travel to Syria, to 'poison the water and food' of the enemies of Allah in France.
The series of attacks began just after 9.20pm local time and continued at five-minute intervals, targeting the Stade de France, restaurants, cafes and a concert hall.
So far reports say that over 150 people have been killed, and many more injured.
All of the attackers were wearing suicide belts in a highly coordinated attack. Questions are now being asked of the state of French intelligence because of the level of organization that was demanded by the scale of the operation.
International leaders have united in revulsion, with the Pope, Barack Obama and the Queen issuing statements expressing their shock and sympathy with the French people.
The London Mayor, Boris Johnson, wrote to his French counterpart, Anne Hildalgo, offering his support and sympathy. He said that in a mark of solidarity Tower Bridge will be bathed in the colours of French flag this evening.
However, one leader that was out of tune with the international response was Syrian leader Bashar al-Assad. He reportedly told a group of visiting French journalists that French policy in his country was responsible for the attacks.
President Hollande, who was the Stade de France and had to be evacuated when the attacks took place, called the outrage an 'act of war' and said that France would be 'pitiless' in its response.
He announced a state of emergency (the first in years), the closing of French borders, and three days of official mourning.
The British opposition leader, Labour's Jeremy Corbyn issued a statement in which he deplored the attacks but warned against getting drawn into a response that 'feeds a cycle of violence and hatred'.
Meanwhile Daesh called Paris the "capital of abominations and perversion." Speculation now is that there are more attacks to come. #Security #Conflict