Modi Takes Control Yet Again; Shocks India with his Speech
The Indian Prime Minister's maiden Independence Day speech was just like him: earthshaking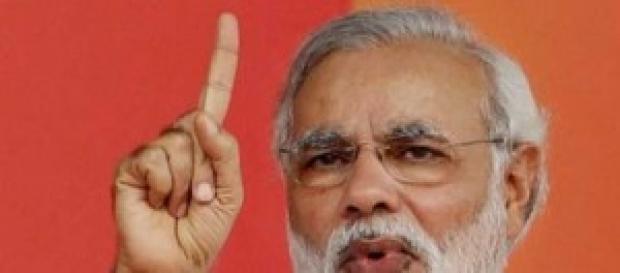 If it is not different, if it is not defiant, if it is not roaring, it is not Narendra Damodar Modi. What was supposed to be a routine, long followed execution of the tradition started by the very first #Prime Minister of India—Pandit Jawaharlal Nehru—turned into a shockwave for most of the Indian population as recent Prime Minister, powerhouse Narendra Damodar Modi shook the country with his lightening streaked words at the celebration of India's 68th Independence Day.
Narendra Modi has never been a man to mince words. Ever since he took control of the Indian state of Gujarat as its Chief Minister, Modi worked with a tight rein and a focused mind. He is one to speak his mind without fear, and look authority in its face. Perhaps that is the reason why people refer to him as a lion, and why the Bhartiya Janta Party (BJP) made history in this year's elections by securing a majority in the Indian parliament after the nineteen eighties. Thus, no one knew what was to happen today, because one can never expect anything from Modi.
As the sun shone bright on India's 68th birthday, marking its freedom from the British reign, Modi spoke out loud in his baritone voice from the dais at the Red Fort, where the Indian Prime Minister hoists the flag every Independence Day, and brought to apparent completion the term of the Planning Commission of India.
India's first Prime Minister, Pandit Jawaharlal Nehru, was impressed and affected by the Russian Supreme Josef Stalin's wish to bring about an industrial revolution in the Soviet Union. Therefore, he set up a Planning Commission to plan out the progress and development in the country, especially pertaining to the agricultural economy, which was and still is a major source of income for India. While the Russian Planning Commission known as Gosplan collapsed, its Indian friend persevered and saw the end of some of the worst phases of India's economy, thriving and carrying out its duty.
Modi, however, became the first attack on the wall when once, during his term as Chief Minister of Gujarat, he made clear his opinions on the Commission by showing up at the Parliament with a video that described in detail how arrogant and ignorant the commission was in executing its duties. The commission itself has been under the hammer for quite some time, facing fire for an incident in 2012, when it had utilized more than $50,000 on repairs for two official washrooms. Later on, in another incident, it had sparked outrage among the people by saying that anyone in India who earned more than twenty seven rupees daily (two US cents, that is) was not to be considered poor.
Today, however, Modi was clear on exactly what he and his subjects thought of the Planning Commission, and declared that it would soon be done away with and replaced with a body more in line with American train of planning and thoughts. Modi reiterated his personal slogan of "maximum governance, minimum government" and expressed his despair at the sad state of affairs in his country, emphasizing that it is in desperate need of a makeover.
Taking another step towards his promises, Modi chose Independence Day to announce a special scheme for all Indian persons who do not have bank accounts to prevent them from being cheated out of their money. During the election campaign this year, Modi's quasi-anti Congress agenda had contained issues like boosting the downtrodden economy, creating jobs and infrastructural and industrial development. Since assuming office, the BJP government has thrown bones to the public, but not produced any results. Critics say that it will be a hard road for Modi both ways: if he doesn't deliver, his agenda and hype will suffer. However, delivering results in a country such as India is also difficult, as it is still reeling from the wounds of the crashed economy and the numerous scams that the Congress left in its wake. It's a tough road for Modi from here. Only his efforts in time will tell the fate of this nation.