Will Pope Francis visit Northern Ireland?
Pope to attend 2018 Dublin gathering, speculation grows of historic northern visit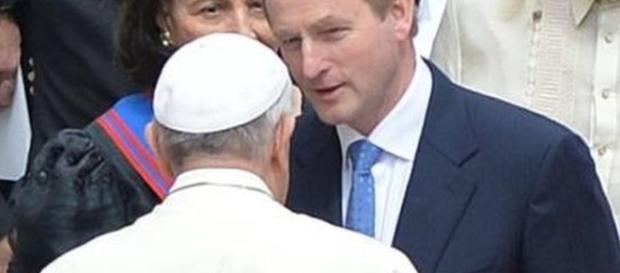 Following confirmation that Pope Francis is to visit Dublin in 2018 to address the World Meeting of Families, an international Catholic gathering, speculation is growing that he may make a historic visit to Northern #ireland.
The Vatican has confirmed that the Argentine-born pope, the first from Latin America, will spend two days in Dublin, attending the congress and meeting Irish bishops and other senior figures. However, it has not ruled out a third day to allow a trip across the border.
Pope Francis to travel
The recent decision by Francis to add a day onto his visit to Sweden to meet local sensitivities shows his own willingness to adjust his schedule.
He will be only the second pope to visit Ireland, the first having been St John Paul back in 1979.
On that occasion, plans to visit Northern Ireland, then at the height of the Troubles, were abandoned due to the murders of Lord Mountbatten and members of his family and friends off the Sligo coast, and of 18 British soldiers on the same day at Warrenpoint in Co Down.
As the Bishop of Meath, Dr Michael Smith, has recalled in media interviews, this was due to fears that Northern Irish Catholics would be attacked by loyalist paramilitaries. As a result, most of them crossed the border to hear the Polish pope plead for peace at the Drogheda shrine of St Oliver Plunkett, a 17th century martyr who was the only post-Reformation Irish person to have been canonised.
Northern Ireland's transformation
Northern Ireland has come a long way since then, the Troubles are over (despite sporadic incidents involving dissident republicans and loyalists) and the vast majority back the Good Friday Agreement, voted in by the people of both parts of Ireland in 1998.
This laid down that a united Ireland could only come with the consent of a majority in both jurisdictions and recognised the right of the Northern Irish to define themselves as British, Irish, or, crucially, as both.
The Republic is also an utterly different place from 1979, when over nine out of ten Catholics attended Mass weekly. A recent survey found it down to 35%, while it is down to 14% in the Dublin archdiocese. The secularisation reflects a huge sense of disillusionment over the bishops' handling of cases of sexual abuse of children by clergy.
It is also reflected in the fact that whereas in 1979 civil law reflected Catholic teaching in areas like abortion, divorce, contraception and homosexuality, that is no longer the case. A country which only legalised male homosexual activity in 1993 voted by over 62% last year to introduce same sex marriage, the first country in the world to do so by popular vote.
This contrasted sharply with the bare majority vote to introduce civil divorce twenty years previously and is a further sign of the decline in the Church's influence.
Declining numbers of priests in Ireland, which once sent missionaries all over the world, have resulted in bishops importing clergy from #Nigeria.
What is the future of Catholicism?
Nonetheless, to write the obituary of Irish Catholicism would be premature. Those who seldom go to church still look to clergy for support in times of trouble, and it is worth noting that a 2012 Eurobarometer poll found only 2% of the Irish were atheists.
The meeting this week between Francis and the Irish prime minister, Enda Kenny (pictured above meeting him) is certain to increase debate on whether he will visit Northern Ireland. Whereas John Paul visited several areas of the Republic outside the capital, that will almost certainly not be the case with Francis, due to the time constraints of the World Meeting of Families, though a short trip outside Dublin to meet clerical students at Maynooth, home of the main Irish seminary, is likely.
If Francis does visit Northern Ireland, the question is whether he will go to Belfast or Armagh. The likelihood will be that the latter will be chosen, due to its historical significance as the seat of Irish Christianity, where St Patrick founded his church. #Religion