Meghan and Prince Harry spend time with school children in Australia on day 3
Royal couple are treated to gardening tips and inspect a school's garden.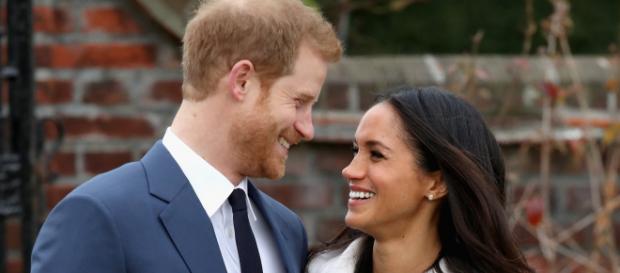 The Duke and Duchess spent a morning with children on the third day of their royal tour of Australia - and were asked the sort of probing questions that youngsters love to use to challenge adults.
Earlier in the week, the royal couple announced that they are expecting their first child next spring, so curious Aussie kids who joined them on a short journey on a tram in Melbourne were curious to know what the next royal will be called.
34-year-old Harry and Megan, 37, told the kids - including 12-year-old Charlie Wolf from Middle Park Primary - that their friends and family had offered them a long list of options for the baby's name, but that they hadn't looked yet as it was still quite early.
Despite that, British bookies are already offering odds on what the baby will be called, with Diana, Alice and Arthur current favourites.
The Duchess, whose manner has been compared to Harry's mother Diana, once starred in the hit TV show Suits, also revealed she was a big fan of watching TV shows in her spare time but declined to say which was her favourite. "There are heaps!" she told the children.
Duchess is given the first tiara
The Duchess of Sussex was delighted to receive a gift from a Melbourne schoolgirl this morning.
Six-year-old Annie, from Albert Park school, held the traditional bunch of flowers - but also gave the fashion-conscious Duchess a toy tiara, which the former TV star said was "Amazing!".
Prince Harry and Meghan Markle arrive in Dubbo, in rural New South Wales, on the second day of their visit to Australia. The royal couple were greeted by school children, but it was 5-year-old Luke Vincent who stole the limelight. pic.twitter.com/Oh2lJTcDNY

— NBC News (@NBCNews) October 17, 2018
600 children greeted the duke and duchess at the Melbourne primary when the Royals came to visit the school's sustainability programme, which includes growing vegetables and cutting waste.
The couple were introduced to the school's "waste warriors", who wore capes and masks - and were given some ideas about preparing lunch boxes which didn't include any plastic wrapping.
They also visited the school's pet snail, which the duke suggested they name Speedy.
Meghan Markle has been given a toy tiara from a school child on the third day of her Royal Tour of Australia with Prince Harry.

The Duke and Duchess of Sussex also visited a beach in Melbourne and a local primary school where they discussed the environment and sustainability. pic.twitter.com/lEkIpzehb8

— Channel 5 News (@5_News) October 18, 2018
Duke's gardening lesson
Harry - whose father Prince Charles is famed for his horticultural ability - was also pleased to receive some gardening tips.
At the vegetable patch twelve-year-olds, Finn McClenaghan and Emma Cafferkey showed the royal couple how to mulch, reminding them that it's important not to put the shredded sugar cane which they were using onto the plants.
They were also shown the school's compost bins and the wormery, of which the school is very proud.
After the couple left the children said the royals had told them that they were very well educated and that "we knew a lot."
The couple is expected to attend more than 70 engagements on their 16-day tour, including the opening of The Invictus Games.
This news article has been verified through:
https://www.telegraph.co.uk/news/2018/10/18/crowds-greet-duke-duchess-sussex-melbourne/
https://betting.betfair.com/specials/royal-betting/harry-and-meghan-royal-baby-name-odds-betting-news-monday-october-15-151018-205.html
Click to read more
You will watch a video to read the news
or