Barack Obama's Valentine's day pic with wife Michelle going viral
On the eve of Valentine's day, the former American President shared a pic of him along with wife Michelle Obama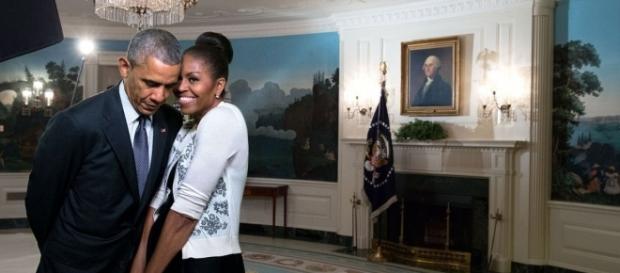 #Barack Obama's Valentine's day pic with Michelle Obama going viral: - Former American President, Barack Obama shared a Valentine's day pic of him along with Michelle Obama on the eve of Valentine's day. The pic went viral on social media platforms with many likes and retweets for the post. The former President said that it was still new living with his wife Michelle despite 28 years that were gone in their journey together. Barack Obama wrote "Happy Valentine's Day, @michelleobama! Almost 28 years with you, but it always feels new," on his Twitter handle. The pic he shared is receiving a good response from the audience on this special day which conveys that a longer journey between the life partners understanding each other in different stages of life is the best Valentine's gift ever.
Happy Valentine's Day, @michelleobama! Almost 28 years with you, but it always feels new. pic.twitter.com/O0UhJWoqGN

— Barack Obama (@BarackObama) February 14, 2017
The couple married in 1992
Barack Obama and Michelle Obama married on October 3rd in 1992. The coupled was blessed with a baby daughter on July 4th, 1998 who is named Malia Ann and they had their second daughter on June 10, 2001. She is named Natasha. As the couple met in the year 1989, when they went on a date to see "Do the Right thing," it has been 28 years since they first met each other. Several times, the couple stood as an inspiration to many youngsters by showing their love towards each other on many public occasions in this 28-year journey.
Barack Obama retired on Jan. 20th, 2017 as Amercian President
Barack Obama successfully completed his eight years term in the Presidential post on Jan.
20th, 2017. He was first elected as the 44th Amercian President on Jan. 20th, 2009 and he continued his journey as Amercian President for eight long years in two terms until Jan. 20th, 2017.
As the President can be elected only two times as per the American constitution, Barack Obama successfully completed his two terms from the year 2009 to 2017. The former President has a huge following on his Twitter handle with 84.5 million followers
Since he retired from the Presidential post, he rarely tweets on the platform and his last one was on Jan. 22nd, 2017. Again after 23 days, he posted a new tweet on the eve of Valentine's day which comes as a special surprise for his followers. #valentine day #president barack obama