David Bowie art collection auction success
On its first day, the auction of David Bowie's art collection has made over £24 million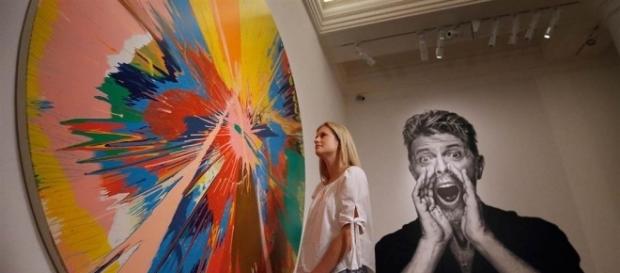 The first day of the auction of late rock star #David Bowie's personal #Art collection has made £24.3 million. Held at Sotherby's in London on Thursday, the auction featured 47 artworks together valued between £8.1 million and £11.7 million. The most valuable sale was Air Power, a 1984 Jean-Michel Basquiat painting that went for over £7 million. The sale of Bowie's collection was hotly anticipated and the works were displayed to the public before being put to auction.
Sound and vision: art and Bowie
David Bowie was a life long art fan and his collection also included paintings by Frank Auerbach and Damien Hirst. The only work by Bowie to go on sale on this day was a painting produced with Damien Hirst entitled Beautiful, Hallo, Space-boy Painting, which sold for £785,000.
The first two sales of the collection focus on Bowie's modern and contemporary art pieces, whilst the third will include works by the designer Ettore Sottsass. Sotherby's has said that buyers from 46 countries registered to bid in this exciting auction.
The collection has been seen as an insight into the musician's life and Bowie is famous for his wide range of influences and allusions across his work. He played Andy Warhol in the 1996 film of Jean-Michel Basquiat's life, possibly influencing the interest in the painting Air Power, and has a 'Song For Andy Warhol' on the album Hunky Dory.
The proceeds after fees and taxes are going back to the David Bowie estate, which put the auction together with Sotherby's. His family has kept artwork "of particular personal significance", a spokeswoman from the auction house has said, but "it is now time to give others the opportunity to appreciate – and acquire – the art and objects he so admired".
Bowie's ongoing legacy
As the success of this auction shows, David Bowie's legacy is still very much in the spotlight. In September Bowie's album "Blackstar "was beaten in the Mercury music prize and last month his musical "Lazarus" opened in London. The musical features many of Bowie's famous tracks and is a follow-up to the 1976 film "The Man Who Fell To Earth", which he starred in. Undoubtably, the shine of Bowie's works is not to be extinguished. #Music