Birmingham man stabbed to death on a bus, police investigate
The suspect is still at large, police are urging anyone with any information to come forward and aid their manhunt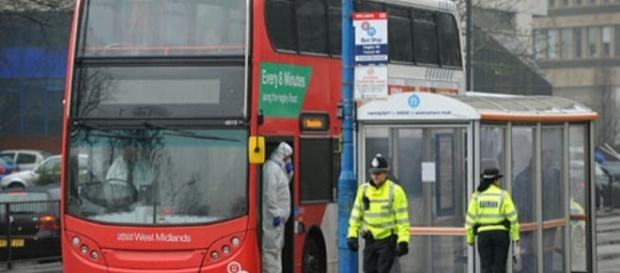 Late on Monday night, a 35-year-old man was killed by a knifeman who stabbed him repeatedly in the back and stomach on a bus in Birmingham. Police have yet to reveal the identity of the victim, but it is known that he comes from Smethwick. He was mercilessly attacked on the bus as a crowd of terrified passengers looked on.
Police have commented on the details of the attack
The incident took place on the upper deck of the 11A bus as it travelled down Rookery Road in Handsworth (which has remained closed throughout today as the investigation continues) on its way to Birmingham city centre. According to Detective Superintendent Tom Chisholm, the attacker boarded the bus and got into an altercation with the victim that led to blows being exchanged and eventually murder.
"There didn't appear to be much of a build-up" to the attack, says Chisholm, who explains that the altercation "very quickly became physical" with "a number of blows" being exchanged before the perpetrator of the murder "overpowered" his victim.
Chisholm detailed some of the forensic findings, saying it looks like the victim was "stabbed in the abdomen and back area several times." He believes that, although the argument lasted just minutes before escalating to homicide, this was the first the pair had met and they did not know each other previous to the fateful bus journey to Birmingham city centre.
Killer still at large
The #Police in Birmingham still have yet to catch the killer, who fled the scene following the attack and made it into the busy crowd on Soho Road and hasn't been seen since.
After he fled, the bus driver stopped the bus and called police about the incident at 10:43pm. The victim died shortly after police and paramedics arrived at the scene.
The murder weapon, reportedly a foldout pen knife, which would give the police a huge advantage in their Birmingham-wide search for the killer, has yet to be located. Detectives are going through hours of CCTV footage from the area and talking to witnesses, while forensic scientists are searching the area for any semblance of a clue, all looking for anything that could bring them closer to finding the perpetrator.
Witnessed by five passengers
The incident was witnessed by five passengers, all headed into the centre of Birmingham. After the attack, one of them stayed with the victim, while the other four (three men, one woman) got off the bus at the nearest opportunity and disappeared. Chisholm is reaching out to these four passengers and anyone in the area who might know the suspect to come forward with any information they might have, saying this is "a matter of urgency."
The suspect that Birmingham police are desperately looking for is described as a black male, approximately 5 feet and 9-10 inches in height, and around 25-30 years old, with a short dreadlocks-type haircut.
He was wearing a padded jacket and a dark baseball cap and carrying a "nondescript" hold-all bag as well as "bin-type earphones." Anyone with any information whatsoever regarding the attack or the suspect is urged to call the police on 101 or alternatively you can call Crimestoppers anonymously on 0800555111. #Crime #England