Van Gogh paintings that went missing 14 years ago recovered from Italian drug mafia
Italian Police has finally recovered two of the great artists paintings stolen from Amsterdam in 2002.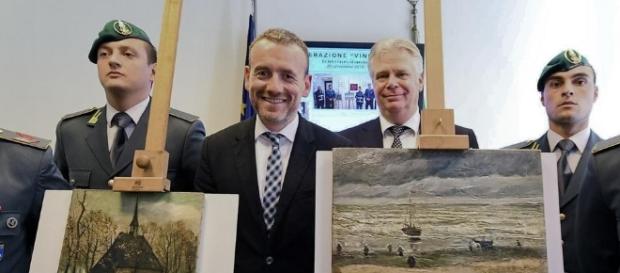 Two of Van Gogh's masterpieces that went missing from Amsterdam museum 14 years ago, in a movie style heist, were recovered by Naples Police in an Italian country house belonging to an alleged drug smuggler.
On Friday, Italian police showed the recovered paintings that were removed from their frames and wrapped in cotton cloth, to the reporters. According to Italian media, the paintings appeared undamaged and in "relatively good condition".
Involvement of the infamous Italian mafia
The stolen paintings were discovered in the farmhouse of Raffaele Imperiale, an alleged drug boss with links to the Naples Gamorra.The 42-year-old drug lord and a fugitive, allegedly runs an infamous cocaine trafficking circuit globally, in collaboration with other listed gangsters.
According to Naples prosecutor Giovanni Colangelo, he had probably purchased the paintings worth a total of €100 million (£86 million), with drug proceeds.
How the police were lead to Imperiale
Police and prosecutors got their first lead into this case when they arrested 11 mobsters earlier this year. They were running a drug ring and had connections with Imperiale. According to The Guardian, Mario Cerrone, one among those arrested in January, decided to collaborate with the police. 
As a result Police then launched a lengthy investigation dubbed "Vincent". Finally, help from the 'gangster turned state witness' led them to Imperiale's home, where they found the artworks locked up in a safe.
During the operation, police also seized a small airplane, boats, 49 properties, and 88 bank accounts worth an estimated €20 million.
How the paintings had been stolen
The disappearance of the paintings in 2002 that puzzled art investigators all over the world took place from Van Gogh Museum in Amsterdam which is considered to be the largest repository of Van Gogh's work. As a matter of fact, the theft was listed in FBI's top ten art crimes of the world. The famous paintings "Congregation Leaving the Reformed Church in Nuene" which was painted in 1884-85 and "View of the Sea at Scheveningen" painted in 1882 both belonged to the early days of the Dutch artists' short career and thus were very rare. Celebrating the recovery of these rare and expensive art pieces, Axel Ruger, director of the Van Gogh museum said, "It is a great day for us today to see the works and to know that they are safe and that they are in safe hands,"
Celebrating the recovery of these rare and expensive art pieces, Axel Ruger, director of the Van Gogh museum said, "It is a great day for us today to see the works and to know that they are safe and that they are in safe hands," #Alcohol