Hong Kong dark`s side of the story
Though Hong Kong has the best to offer, it is unfortunately not for everyone especially asylum seekers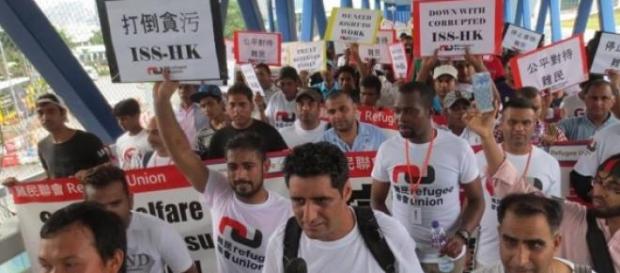 Hanging out near the International Finance
Centre on the waterfront of Hong Kong`s central district revealed to me how rich and modern the former British colony is. The centre consists of two skyscrapers and the 55-storey Four Seasons Hotel Hong Kong
. Based on its structural heights, the centre is the eighth-tallest office building in the world.
I happened to be right there in June 2014 all the way from the heart of Africa in Rwanda. As I entered inside the centre, I found myself in a "rich man's world" environment. It was my first time of discovering one place filled with shopping malls representing the major world class brands. IFC is also home to banking services which Hong Kong is well known for but also the right place for avid shoppers with big budgets.
People inside the IFC are smartly dressed and are all rushing somewhere busily checking their smart phones. I was just overwhelmed by the people and the place I was contemplating. As I was touring the building in awe, I unexpectedly discovered another world which brought me back to reality. To my surprise not everyone inside the building was happy enjoying the best that life has to offer.
One floor of the IFC was occupied by a number of tents with a number of chairs around them. Placards with the inscription "Refugees Occupancy Central to fight corruption" were hanging all over the floor. I concluded that this is definitely something I needed to find out about as a curious visitor. I approached the group of asylum seekers from Africa and Asia to introduce myself.
As I was a new African face in town, they mistakenly thought that I was looking for information to apply for asylum. I found myself speaking with Peter Maina from Kenya so it was easy for me as we started talking in Swahili, a language widely spoken in East Africa. He told me that asylum seekers under their umbrella organization "Refugee Union" were occupying the International Financial Centre to protest against "end of corruption in Welfare services".
On 2014 World Refugee Day, asylum seekers protested for the "end of cruel and inhumane treatment, sufficient welfare and the right to work, end to exploitation by International Social Service –Hong Kong". They told me that they were not happy with incarceration of asylum seekers as they were gearing towards asking for respect of refugees' rights from the Hong Kong government.
As I was enjoying my stay at Ramada hotel
, I kept reminding myself that not everyone in Hong Kong is enjoying life, but I decided not to focus my attention on asylum seekers because I had no power to change their plight. I instead turned my attention to the main purpose of my visit.
I had gone to participate in the 2014 New Now Next Media conference at Hong Kong University. The first function I attended was as a foreign club correspondent where I had an opportunity to meet famous journalists from CNN, Wall Street Journal and BBC Asia. We concluded that night having a Chinese dinner which tasted 'yummy'!
After my one week stay, I went back home with a sense of joy mixed with a sentiment of sympathy towards Hong Kong asylum seekers. Most of them left their home countries to seek protection and hopefully a better life. Instead their days were filled with anger and uncertainty. I concluded that unfortunately Hong Kong wealth and prosperity is not for everyone to grab.