Darth Vader ice sculpture takes centre stage
Giant Star Wars' carving is main attraction at Japan's Hokkaido annual festival of all things cold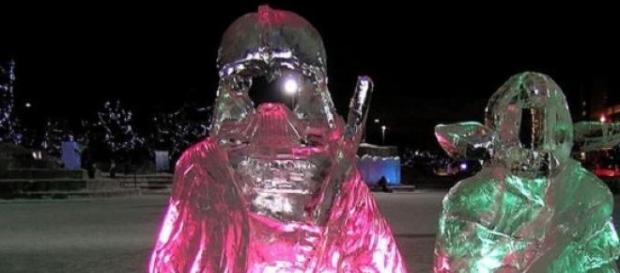 Darth Vader was the centre of attention at the annual festival of all things cold in Hokkaido, Japan, when a 3,500 ton ice sculpture recreation of the infamous Star Wars' villain went on display. The giant carving was just one of the features at the Sapporo Snow Festival, which is taking place at present and runs from the 5th to 11th of February this year.
In an amazing feat of ingenuity and diligence, it took an army of 400 volunteers a month to pile up the vast volume of snow required to make the structure and then to carve it into the recognisable form of Luke Skywalker's nemesis and father from the blockbusting Hollywood films.
When completed, the image stood a colossal 15 metres in height.
Snow festivals such as the current Sapporo Snow Festival have been held in Japan since 1950 and typically last for seven days.
In modern times, the Sapporo festival has been spread across a number of sites, with Odori Park, Susukino and Tsudome being the main ones. Due to the vastness of the structures commonly on Show, it is difficult to gain a true perspective of their shape and depth without finding a high vantage point, such as the TV Tower at the Odori Park venue.
For the Japanese, snow festivals create much interest for the country, as interested parties come to view the hundreds of snow statues and ice sculptures on show, that have been created by teams from across the world. They are big business in terms of tourists, with 2007 alone seeing the number of visitors to Sapporo's festival at around the two million mark, who turned up to see the sculptures but also to sample the wide variety of foods from the regions as well.
Click to read more
and watch the video
or