Potential fullbacks for Castleford in 2019: Mamo, Evalds,Escare, Mead, Hardaker
Castleford have struggled this year to plug the gap left by Zak Hardaker, so a fullback is a must for 2019.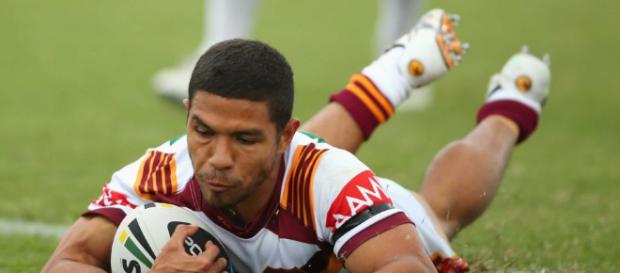 A fullback must be the first thing on Daryl Powell's shopping list for 2019; since Zak Hardaker's acrimonious departure from the club after failing a drugs test, the Tigers have struggled to replace him. Hardaker is one of the country's best fullbacks, so Castleford were always going to feel the consequences, and so far in 2018, the Tigers have looked disjointed on the field.
In the modern Rugby League era, a fullback is integral to the way a side attacks - by chiming into the line at the right time - and defends - by communicating with his teammates in front of him and making sure he is in the right place at the right time.
Ben Roberts, Jake Trueman and Michael Shenton have all tried their hand in the No.1 position in 2018, but the club needs a natural fullback for 2019 and beyond.
Jake Mamo
In his last interview, Jake Mamo was said to be "weighing up his options" after the departure of Huddersfield boss Rick Stone - a coach that stood by the long-haired Australian after a pre-season injury threatened his Giants career. With Mamo out of contract at the end of the season, clubs are likely to be in for the 23-year-old despite his susceptibility to injury.
In five years of NRL and Super League rugby, Mamo has registered just shy of 50 appearances - an average of 10 games a season. This is what makes signing the former Newcastle Knights player a gamble, but if fit and firing, Mamo would certainly thrive at the Jungle with his attacking quality. Plus, at just 23, Mamo is still young and has improvement in him - a scary thought for such an impressive player already.
Niall Evalds
Rumoured to be joining the Tigers earlier in the season, Niall Evalds has been in and out of the Salford fullback spot this year.
But, with Gareth O'Brien's departure to Toronto, Evalds has been given a chance to impress in the No.1 shirt and has looked very comfortable at the back when called upon. His defensive game is solid whilst he also possesses a keen attacking flair which could fit right into the Castleford structure. Though Evalds signed a new long-term deal in June last year, it is a move that could happen if Castleford are willing to spend.
Morgan Escare
With Zak Hardaker apparently inching closer to signing for Wigan, it leaves Morgan Escare somewhat cast aside.
Whilst in 2018 Escare has interchanged with Sam Tomkins at fullback, if Hardaker joins the Warriors Escare is unlikely to get a place in the team. As talented as the diminutive Frenchman is, no one would knock Hardaker off the No.1 perch and with chances limited, Escare would either have to sit in the wings or look elsewhere.
As such, it would likely make perfect sense for the ex-Catalans player to join the Tigers. An exciting runner with pace to burn and impressive defensively despite being just 5 ft 8, Escare would be Castleford's first choice at the back which could prove key if Hardaker does join Wigan.
David Mead
Before Mead signed with Catalans for 2018, the Castleford faithful were hoping that the PNG star would join their own club after months of rumours. Instead, the former Gold Coast Titan moved to the south of France, hoping to propel the French side back into Super League's top eight. However, it hasn't worked out for Mead so far in Perpignan with the Dragons' inconsistency and horrendous start to the season stifling his quite obvious talent.
However, in the right environment and under the right coach, Mead could easily become a Super League star. At 29, he would bring an enormous wealth of experience to the Tigers and could easily have the same impact on the field as Hardaker did in 2017.
Zak Hardaker
Even though Hardaker has being heavily linked with a move to Wigan, there is still speculation that he could yet go back to Castleford when his ban ends in November this year. It would be a sensational move if so, and one which would divide the Castleford faithful. But, there is no better fullback in the country than Hardaker and the Tigers would certainly look the part on the field with the former Leeds man in their ranks. However, it would be a massive risk given his controversial past and the way he left the club in the lurch at the end of 2017.