The curious case of Gadwin Springer
After moving to Castleford in 2015, Gadwin Springer was one of the hottest prospects in the game. But, now, he is finding opportunities limited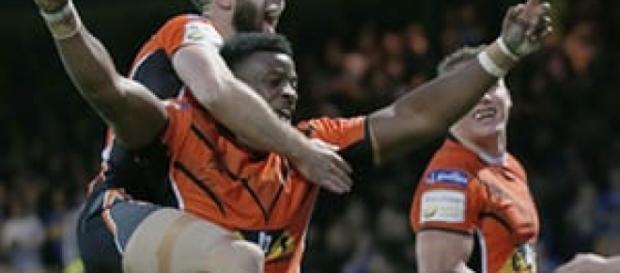 When Gadwin Springer arrived at Castleford midway through the 2015 season from French side Catalans Dragons, Castleford fans were in a jubilant mood. Born in French Guiana, Springer had shown in the four matches he had played at Catalans that he was a real handful for defences. Standing at 6 ft 2 tall and weighing over 110kgs, he is an absolute monster of a prop froward.
And, despite a slow start after coming to grips with both the language barrier and how Castleford played, Springer became one of the Tigers' most potent weapons. He played ten times towards the back end of 2015 and followed this up with 21 appearances in 2016 which proved to be, arguably, his best season in a Castleford shirt.
But, despite playing 21 games once more in 2017, Springer fell way behind the pecking order and, in 2018, he has been absent in every game so far.
Initial transfer
Having come through at Toulouse, Catalans signed Springer in 2012, where he developed as part of the St Esteve reserve team. Springer then decided to move to West Yorkshire in June 2015 - a massive commitment for a native French speaker at the age of just 22 with a French-speaking girlfriend. The Tigers had originally signed him for the 2016 and 2017 seasons, but took the opportunity to bring him to the club on a two-and-a-half year deal instead after Springer was made available. His performances in a Castleford shirt towards the back end of 2015 showed his potential as an aggressive and mobile prop forward, though he was still incredibly raw.
A season to remember
2016 was the year where Gadwin kicked on. His superb try in Castleford's demolition of Leeds in May 2016 underlined just how good of a player he could become. A five-capped French international, Springer shrugged off four would-be tacklers to power over the line as the Tigers inflicted a 12-52 defeat on the Rhinos. In fact, he was so impressive in 2016 that he was rewarded with a new two-year deal in February 2017. From here, it was expected that Springer would kick on, especially as stalwart of the club Andy Lynch was coming to the end of his career with the French prop being touted as his potential long-term replacement.
Something has gone wrong
Although Springer played 21 games once more in 2017 as the Tigers won the League Leaders' Shield and progressed to the Grand Final, he was much less effective than he had been the year before. Conceding penalties and often losing the ball, Springer looked a shadow of his former self and even when he was named in the Castleford 17-man squad, head coach Daryl Powell did not trust the prop enough to give him many minutes on the field.
In fact, in Castleford's thrilling 23-22 victory over St Helens in last year's semi-final play-off, Springer was named on the substitutes' bench, but did not appear on the field. Powell's quite obvious loss of confidence in the monstrous prop has meant that Springer has not featured at all for the Tigers in 2018 so far.
Whether Gadwin is not pulling his weight in training or he is homesick as has regularly been speculated - his girlfriend allegedly cannot speak a word of English - the once-enigmatic forward's progression has stalled. From swatting off opponents left, right and centre to looking uncomfortable on the field, Springer has regressed rather than progressed. Rumours of a move away from Castleford were rife in pre-season with Toronto said to be chasing him and this rumour has been circulating once more recently.
In my opinion, Castleford and Powell should persevere with Springer; he is only 24 and prop forwards do not hit their prime until their late 20s. The Tigers do not have massive forwards - Nathan Massey and even Alex Foster have started at prop over Springer so far this year - and with Springer in the mix, the Tigers look an altogether more formidable side on paper. But, Rugby League is not as simple as that and when Springer has took to the field, he has done little to inspire Powell or the crowd as he was once able to do. He still has massive potential, let's hope he has the attitude and determination to realise it before it is too late. #RugbyLeague #coyf #Castigers