Fiji: The Rugby League World Cup's Forgotten Team?
Despite sporting a 100% record, Fiji have attracted little attention so far in the World Cup.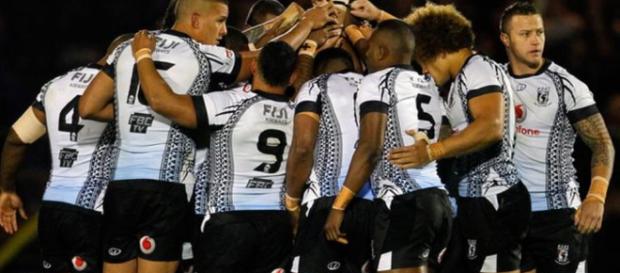 Only four teams in the World Cup have won all three of their matches so far: Australia, Tonga, Papua New Guinea and Fiji. Whilst most of the media hype surrounding the World Cup seems focused on Australia's quest to remain unbeaten throughout the whole tournament, Tonga's incredible victory over New Zealand, the cauldron of emotion that PNG generate in Port Moresby, or Lebanon's record-breaking achievements, Fiji, meanwhile, have been "getting on with the job" without too much fuss. Yet, on their path to the quarter-finals, they have dispatched their opponents in exhilarating fashion. And, in view of a mouth-watering clash against New Zealand this weekend, do Fiji deserve greater recognition?
The brand of Rugby League
The way Fiji have contested their opening three games of the tournament has been nothing short of a joy to watch; whether it's been Jarryd Hayne and Kevin Naiqama ripping their opponents open across the park or Kane Evans and Viliame Kikau tearing down the middle, Fiji have well and truly announced themselves on the big stage as 'ones to watch'.
The 58-12 drubbing of the USA, the 38-10 demolition of Italy and the 72-6 annihilation of Wales all demonstrated Fiji's strike power from 1 to 17. The Bati have scored the most tries in the competition with winger Suliasi Vunivalu the top try scorer so far with eight to his name, whilst they accrued the greatest points difference amongst all of the teams in their respective groups. In fact, Fiji racked up an impressive 34 more points than the second highest points scorers, New Zealand.
Yes, some people may point at Fiji's fixtures - the USA (ranked 10th in the world), Italy (ranked 12th) and Wales (ranked ninth) - and the fact that they most definitely had the easiest group and inter-match fixture, but a team can only play what is in front of them. And Fiji have simply brushed aside their competitors, playing an open and expansive game.
Their ability to move the ball and dominate their opponents with skill - as well as power - is epitomised by how each player along the backline has scored at least one try or more. From Taane Milne to Marcelo Montoya, from Akuila Uate to Suliasi Vunivalu, from Jarryd Hayne to Kevin Naiqama, from Henry Raiwalui to Brayden Wiliame, Fiji not only have depth in their backline, but also genuine quality that can hurt any team and, in particular, a New Zealand side that want to avoid the most embarrassing exit from a World Cup in history.
✈ AIR VUNIVALU TAKE A BOW! Suliasi Vunivalu scored a HATTRICK inside 9 minutes! @7RLWC #RLWC2017 pic.twitter.com/EVhs9RmsRK

— FIJI NSW Cup Bid 🔵 (@FijiNSWCupBid) November 10, 2017
New Zealand should be afraid
The Kiwis, coming off what can only be described as a humiliating yet fully deserved 22-28 defeat to Tonga last weekend, need to go into this fixture wary. Taking Fiji lightly - as many felt New Zealand did so with Tonga - will not yield the result that head coach David Kidwell and his team want.
After becoming the first ever Kiwi side to lose to the Mate Ma'a Tonga, Kidwell denied that they had not underestimated their opponents. But, the way in which New Zealand looked utterly comfortable at half-time with a 16-2 lead and then appeared as though rabbits caught in the headlights once Tonga forced their way back into the game, made it seem as though it was not a reaction the New Zealand players expected. Indeed, the shell-shocked expression on most of the New Zealand faces made one think that they believed that Tonga would lie down and die after the break.
One day you'll tell your kids about #NZLvTON.#RLWC2017 pic.twitter.com/Ls45kHidK5

— RLWC2017 (@RLWC2017) November 11, 2017
Following this game's sobering experience, Kidwell attributed the Tongan defeat as a "blessing in disguise" and has talked up the Fijian side and their ability to "score from anywhere". It is quite obvious that Kidwell is attempting to avert the pressure that is currently being ramped up on his side; the talk - as it was before the World Cup with the controversy surrounding New Zealand's preparations - is all about New Zealand, Fiji, again, are slipping under the radar. This can only benefit the Bati as they head into the knockout stages in buoyant mood following their exploits so far. With absolutely nothing to lose and playing against a side stinging from a humbling defeat, Fiji could deal New Zealand a hammer blow; akin to the vulture, swooping down on the injured and vulnerable Kiwi.
The Fijian hymn
What hasn't gone unnoticed by the media - and particularly Rugby League fans - is the incredible and emotional hymn that the Fijian players sing before and after a game. The Noqu Masa, or in English 'My Prayer', is a harmony of passion and creativity that transcends onto the field once the Bati get into their stride. If this World Cup has shown Rugby League supporters anything it is that the Pacific Islands know how to grab the attention with tradition and culture. And, the Noqu Masa is amongst the greatest things ever heard on a Rugby League field.
FIJI BATI SING WONDERFUL HYMN before taking on Italy! #RLWC2017 @7RLWC pic.twitter.com/j0DDt1bMWp

— FIJI NSW Cup Bid 🔵 (@FijiNSWCupBid) November 10, 2017
Moreover, the commitment to religion and their country displayed so enthusiastically amongst the players really makes the hairs on the back of one's neck stand on end. The Fijian national anthem 'God Bless Fiji' contains the lyrics "Let us show pride and honour our nation". Well, and there are no doubts about it, when the Fijian players belt out their anthem with passion and emotion that almost makes one tearful, the pride in their jersey is all to see.
What representing Fiji means to @KevinNaiqama#RLWC2017 #NRL pic.twitter.com/UK6LjC6nb1

— NRL (@NRL) November 5, 2017
And, the way they have played the game - full of commitment and determination - so far in this year's World Cup, demonstrates just how well the Fijians are honouring their beloved country.
🇫🇯 FOR #FIJI, EVER FIJI! 💙 #RLWC2017

NRLPhotos pic.twitter.com/lxzcNLd2hw

— FIJI NSW Cup Bid 🔵 (@FijiNSWCupBid) October 29, 2017
If Fiji is finally going to get the recognition from the media that they deserve, the Fijian players need to channel the love for their country onto the field in a greater manner than ever before. The Bati definitely have the class to make history, but, a wounded animal, though vulnerable, is always dangerous. New Zealand, however, are the ones firmly in the limelight after last week's defeat and Fiji, if they can increase the pressure heaped upon the Kiwis even further by replicating their current form, have the potential to make the world sit up and take note. And, they have the public on their side, willing David to once more best Goliath. #RLWC2017 #bbcrl #RLWC17