A Real Beginner's Guide to UFC 212
Want to watch UFC 212, but don't know your Aldo from your McGregor? Check this out...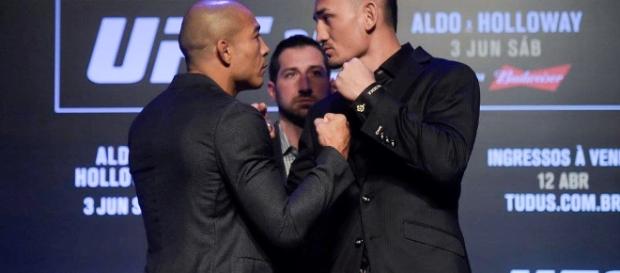 The Ultimate Fighting Championship is a combat-based sport, filled with an incredible strategy which takes years to master and compete in. Although to the untrained eye, it can look deceptively like a mere brawl you'd find in any city centre when everyone has had too many drinks. Here's why it really isn't and how you can appreciate UFC 212.
On June 3rd, the UFC returns to Rio de Janeiro for a stacked card of its top performers, ready to do battle in the octagon. That's the ring, it's named after its shape.
This card is headlined by the current featherweight champion and former Rio resident, José Aldo. He'll certainly be the fan favourite with the spectators in Jeunesse Arena, as he takes on the American and interim champion, Max Holloway.
Interim champion?
You may ask, well sometimes the Real champion, can't defend the title for reasons out of his control, i.e. injury (considering the sport, mostly injury), legal and other unusual circumstances where it'd be unfair to strip the title or ask the champion to compete.
Given that this process can leave the sport without a champion for some time, they re-introduce the title but on a provisional basis. This way the remaining competitors can still win a title in their division; and when the official champion returns, have a match with him to determine who is the undisputed champion.
The featherweight division has been a surreal place recently, the ever-popular Conor McGregor held the title but was stripped of it after he decided to change weight divisions, twice.
He was successful in the light heavyweight division and won that title as well. UFC felt that he could not hold two titles for different weight divisions and as a result awarded Aldo the featherweight title. Max Holloway, however, is also in contention to stake his claim for the title, as he's the official interim title holder, having won that accolade whilst McGregor was a champion, but fighting in another weight class. The division championship will finally have some clarity with an unquestionable, concise and undisputed champion when these two square off for five rounds. Rounds are set to last five minutes, and there's 3-5 of them in a match. The more important the match, the longer it is.
So how exactly do they square off?
Well, the end goal of any UFC contested match is to incapacitate your opponent so they cannot defend themselves any further or make them consciously submit. There is, of course, a third way of winning, where nobody has been submitted or been knocked out through the duration of the match – it goes to the judges.
Techniques utilised to achieves these goals usually come from a mixed martial arts background, which has lent the sport its common name, MMA. There are far too many styles of combat and martial arts to list here, but you can see a lot of jiu-jitsu, taekwondo and boxing amongst others.
Competitors usually adopt a preferred method of victory, seeking either a knockout or submission within the match. Conversely, the other combatant may train to evade the others style, creating the real chess match between the two fighters. Game plans can change during the match itself, given that a lot of performers now cross-train multiple disciplines, so that they can adjust their plan mid-match should they feel their original ideas aren't working.
There is the possibility of getting disqualified in a match, but that doesn't usually happen. Such forbidden and punishable offences include: biting, hair pulling and eye-raking, you know, things which are just rather immoral. A full list of offences can be found on the governing body's website, which lists all prohibited moves and practises.
Throughout a match there's three different phases and positions where combat takes place. Stand-up is where both competitors are on their feet and are likely to try and land strikes upon each other. The clinch is where one fighter has a hold over another; may be trying to transition the fight to the last position, the ground. That's where one fighter is grounded, and the other is usually above and has a distinct advantage. Throughout the latter two, the holds or ground position can come to a standstill with neither contender doing much, usually for fear of getting caught in a worse position. At this point, the referee will usually break the hold and have the match restart from a standing position.
That's the basics of UFC, so you're ready to take on UFC 212!
The main event is set to restore clarity in the featherweight division, but what about the rest of the card? The co-main event, or second from the last match, is from the women's strawweight division. Cláudia Gadelha, the native Brazilian, returns to home soil to take on the Polish Princess, Karolina Kowalkiewicz. However, the division is currently bossed by another Pole, in Joanna Jędrzejczyk, who has defeated Gadelha twice. This match will surely set up Joanna's next title defence, whether she'll face Cláudia for the third time, or have an All-Polish match with Karolina. The local girl, however, is undefeated on home ground, and given the ruckus Rio crowd, Kowalkiewicz could be in for a rough ride.
The rest of the main card sees UFC veteran, Vitor Belfort, return to his home city at the age of forty to take on Nate Marquardt in the middleweight division, in which could be his last ever match. In the same weight class, Paulo Borrachinha takes on Oluwale Bamgbose, whilst in welterweights, Erick Silva and Yancy Medeiros are set to open the main event card with their bout.
UFC 212 is available on BT Sport here in the UK and will be broadcast live at the start time of 3 am (on Sunday, 4th of June), due to the time difference.