How the 'Rigg reached the final
Victory Boss Mark Bullock looks ahead to Northumberland FA Minor Cup Final - Part Two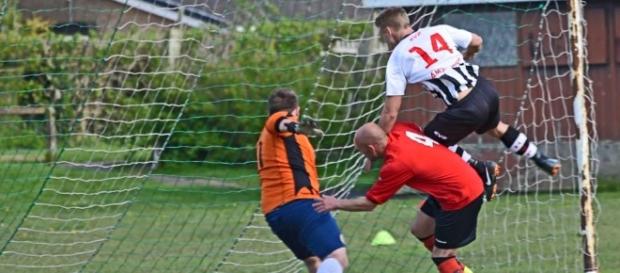 HAZLERIGG'S CUP RUN began with an 8-1 win over the North Northumberland League's Embleton Whinstone Rovers in the Second Round and they beat Forest Hall YPC 4-1 in Round Three – a game that gave manager Mark Bullock some satisfaction.
"Personally, I quite enjoyed the win against Forest Hall because I know their gaffers well. But it's tough to say if there's been a standout moment this time; there was a trip to Amble in the last sixteen and it is quality getting a good day out in this competition.
We've had a number of home draws this year and the atmosphere with all the lads in the Bluebell Inn after the game was first class," he said.
The 'Rigg won 8-2 in that game at Amble Saint Cuthberts and were 2-1 winners over Red Row Welfare in the quarterfinals before romping to a 6-1 win over Heaton Stannington A in the semis.
"From an on the pitching perspective, that performance was the most complete we've been this season - we blew Heaton Stan A away," said Bullock. "We're not exactly 100% sure how we'll prepare for The Final this season yet, but the night before any Cup Final we get the squad together and it'll definitely involve food."
Something hot and spicy, maybe - just to add a bit of heat to an already eagerly-anticipated and mouth-watering Friday night Final.
The Northumberland Fa Minor Cup Final takes place on Friday 28th April 2017 at the Northumberland FA's Blue Flames ground. Kick-off 7.30pm. Entry is £4.50 and £2.50 for concessions.
Directions to the Ground:
Northumberland FA HQ
Whitley Park
Whitley Road
Benton
Newcastle Upon Tyne
NE12 9FA
0191 270 11 66
From the South
At Washington Services on A1(M) take the A194(M) Tyne Tunnel
Join A19 heading North
Go through the Tyne Tunnel and take first left at Roundabout on exit of Tunnel – A19
Go straight ahead at the next roundabout. – A19. In about one + miles take slip road to A191
Take first exit B1505 (A191) to Benton and Gosforth
(there is a Travel Travel Inn on the left.
Go straight across at the next roundabout and take the 1st left at the next roundabout A191 to Gosforth (there is an Asda store on the left)
Approaching Atlas car sales, take the right-hand lane and take the second exit at the roundabout (signposted Benton & Gosforth)
Go past the Pass Saab dealer and then Proctor & Gamble on right
Whitley Park is the second on the left about ¼ mile after Coast Road Motor company
From the North
South on A1 to Seaton Burn
Slip road following A19
3rd exit at roundabout
3rd exit at next roundabout
In about one + miles take slip road to A191
Take fourth exit B1505 (A191) to Benton and Gosforth
(there is a Travel Travel Inn on the left).
Go straight across at the next roundabout and take the 1st left at the next roundabout A191 to Gosforth (there is an Asda store on the left)
Approaching Atlas car sales, take the right-hand lane and take the second exit at the roundabout (signposted Benton & Gosforth)
Go past the Pass Saab dealer and then Proctor & Gamble on right
Whitley Park is the second on the left about ¼ mile after Coast Road Motor company
South on A1 to Seaton Burn Slip road following A19 3rd exit at the roundabout 3rd exit at next roundabout In about one + miles take slip road to A191 Take fourth exit B1505 (A191) to Benton and Gosforth (there is a Travel Travel Inn on the left). Go straight across at the next roundabout and take the 1st left at the next roundabout A191 to Gosforth (there is an Asda store on the left) Approaching Atlas car sales, take the right hand lane and take the second exit at the roundabout (signposted Benton & Gosforth) Go past the Pass Saab dealer and then Proctor & Gamble on right Whitley Park is the second on the left about ¼ mile after Coast Road Motor company
Hazlerigg Victory's route to the Final
Round Two Hazlerigg Victory 8 Embleton Whinstone Rovers 1
Round Three Hazlerigg Victory 4 Forest Hall YPC 1
Round Four Amble Saint Cuthbert's 2 Hazlerigg Victory 8
Quarter Finals Hazlerigg Victory 2 Red Row Welfare 1
Semi Finals Hazlerigg Victory 6 Heaton Stannington A 1
Click to read more
You will watch a video to read the news
or