Walters' double ensures Irish reach Euro 2016 finals
The Republic of Ireland battled through to France next summer after defeating Bosnia in Dublin.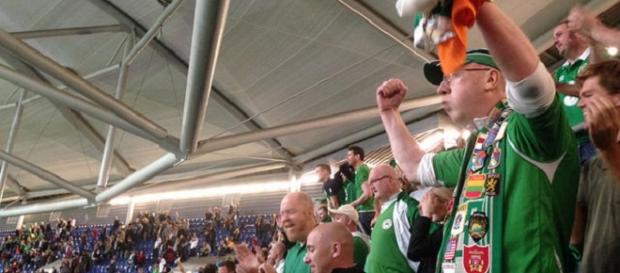 Republic of Ireland 2 - 0 Bosnia (3-1 on aggregate)
The Guinness would surely have been flowing in Dublin last night, after the Republic of Ireland clinched their place in the finals of Euro 2016 in France next summer. A resolute second-leg 2-0 victory over Bosnia-Herzegovina, when coupled with their hard-fought 1-1 away draw in the foggy first leg, ensured their triumphant qualification in Dublin.
Penalty decision was the turning point
The overall outcome of the tie turned on what looked to be a harsh handball decision by the officials last night, as they awarded a penalty to the home side on 24 minutes. An attempted cross by Daryl Murphy appeared to slide across the body of Ervin Zukanovic, with minimal deliberate contact with his hands. Referee Björn Kuipers pointed to the spot, much to the obvious disbelief of the Bosnian players.
Walters keeps his calm
Stoke City's Jon Walters wasn't complaining though as he calmly rolled the ball into the corner of the net from the resultant penalty, sending his former goalkeeping teammate Asmir Begovic the wrong way. The traditionally vociferous Irish supporters were equally ecstatic, lifting the noise levels significantly inside the Aviva Stadium as they sensed that the task was almost complete.
When Walters doubled the advantage for Martin O'Neill's men with just 20 minutes of the game remaining with a pinpoint volley, the game was effectively up for the visitors.
Long almost completes the job
Substitute Shane Long could have added to his growing reputation after scoring the priceless winner against world champions Germany earlier in the campaign. Sadly for home fans his effort on 75 minutes went agonisingly wide of the post, just as they thought that he was destined to provide the coup de grace for Bosnia's chances.
Late chance for Bosnia
Ireland had to survive something of a late onslaught as Vedad Ibisevic smashed a last minute shot against the woodwork. But they survived that late scare and can now look forward to the finals with some optimism. With England, Wales and their near neighbours from Northern Ireland also qualified, it should be quite a home nation gathering in France.
Luck 'evens out'
Although the first-half penalty was perhaps a rash decision by the referee in the final analysis, it could equally be viewed as solid proof that 'luck' in #Football does (sometimes) even itself out. Ireland had themselves been cruelly denied a place in the World Cup finals of 2010 at the playoff stages, as Thierry Henry's blatant handball had ensured that the French progressed at their expense. Recriminations and discontent have surrounded the incident ever since.
The 'luck of the Irish' may be back in vogue after last night's experience, but whisper it gently to the deserving Martin O'Neill and his canny sidekick Roy Keane. Hard work and teamwork does sometimes pay off in international football, as they join Europe's elite footballing nations in France next year. #Euro2016 #Party