Star Sports, Hotstar live streaming India vs New Zealand World Cup Warm-up
Don't miss our Facebook page!
Like Blasting News page on Facebook: we will keep you updated with all the latest news.
Top seed Serena Williams was convincingly beaten in the semi-finals in Madrid by the reigning Wimbledon champion Petra Kvitova. Joining her in a surprise exit from the tournament was the title holder from last year, Maria Sharapova. She lost in straight sets to her Russian compatriot Svetlana Kuznetsova.
Serena was the heavy favourite
Serena had looked to be destined to contest the final, after summarily dismissing the Spaniard Carla Suarez-Navarro in the quarter-finals.
Her head to head with Kvitova showed only one blot on an otherwise perfect record against the Czech woman. Even that was a slightly misleading statistic, given that it was a walkover at last year's event in Madrid. In their other five meetings on the tour, Serena had won five times and lost just one set to her opponent.
Yet she was distinctly second best on this occasion against her 25-year-old rival, as she slumped to a 2-6 3-6 reversal. Perhaps it should not be too great a surprise when a number four player makes the final in a tournament such as this, but the aura around Serena often suggests that she is unbeatable.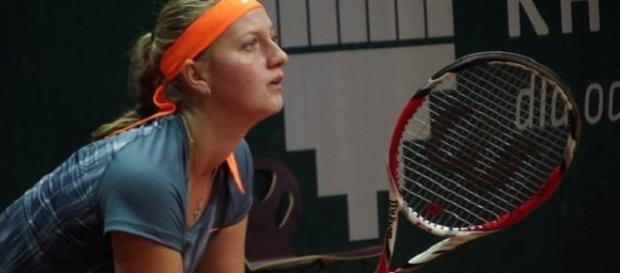 That indeed must be a major factor to be overcome by any player seeking to defeat her.

Kvitova went on the offensive

Kvitova decided that the best way to take on her illustrious opponent was to go on to the offensive. She was helped by an oddly off-key performance by Ms Williams, as her serve let her down badly. Three breaks in the first set were more than enough to allow the Czech player to edge one set ahead. Her only hiccup had been the loss of her own service in the fourth game, but with the power of Williams it was never likely to be completely plain sailing.

The second set was hardly an improvement on the first for Williams, as she lost serve yet again in the opening game. With Kvitova in the ascendency, a further break of the American woman's serve stretched her advantage out to 4-1 and a hold in the next game left her tantalisingly close to the winning post. Serena did at least rally to extend the match by breaking back before the end, but could not prevent her opponent from closing out the match.

She said afterwards that she had felt "exhausted" during the contest, perhaps one of the explanations for losing her serve a remarkable six times in all during the match.

Bad tournament for the top seeds

With the top two seeds removed from the competition (Simona Halep had previously lost to Alize Cornet in the first round), the favourite tag would have transferred to number three seed Sharapova. Having only recently been overtaken by Halep as the second seed in the world rankings, she could have regained that position with a victory.

However, she had earlier found her semi-final opponent too hot to handle, Kuznetsova beating her 6-2 6-4.

It was her fellow Russian's first success over Sharapova for seven years, as she was the more solid player throughout their match. She broke Sharapova's service three times during their encounter and only faced one (untaken) break point in return on her own serve.

Kvitova the slight favourite in the final?

Kuznetsova's welcome return to top form makes for an intriguing final. Although their head to head suggests that Kvitova has the slight advantage (she leads 3-1), it was the Russian who came out on top last time they met in the French Open. That too was on clay, maybe giving her the psychological advantage.
Click to read more
and watch the video