Straight-sets victory over Feliciano Lopez at Indian Wells sets up last-four clash with top seed Djokovic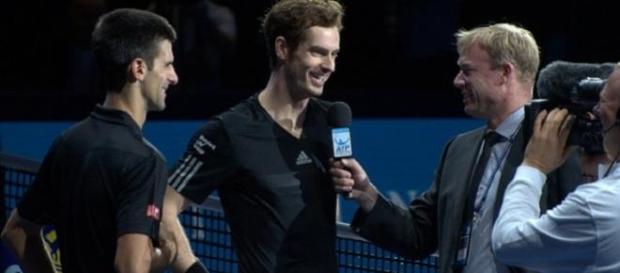 Andy Murray fulfilled his part of the bargain, by overcoming Feliciano Lopez in the quarter-finals at Indian Wells, to set up a repeat of this year's Australian Open final against Novak Djokovic. The Scot seems to have something of a hoodoo over his Spanish rival, as he remains unbeaten in the ten contests that they have shared on the tour, as it was a familiar outcome this time around with his 6-3 6-4 success. He now needs to find a game plan to slip past the indefatigable Serbian number one seed, if he is to make only his second final at the Californian event.
Britain's number one is now one step closer to emulating his performance at Indian Wells six years ago, the last time he reached the final there, when he eventually succumbed to another Spanish player, Rafael Nadal.
The event remains as the only hard court event in the Masters Series that he has yet to win, but he will have to find top form to squeeze past Djokovic one expects, if that is to have any chance of occurring this year.
He once again found Nadal's compatriot Lopez much to his liking in their quarter-final tussle. His own serve was well grooved early on as he took the first two games on it without losing a single point, but pressured his opponent to the extent of breaking it on the second opportunity to establish a 3-1 lead in the first set. He dropped his first point on serve in the seventh game, but it was hardly a major issue as he claimed the set and looked well in control.
Set two began well for Murray as he broke the Lopez serve in the very first game and when another break of serve backed that up, he was soon serving for the match.
Perhaps looking ahead of himself, he then dropped serve for the first time in the match, as the Lopez game plan changed slightly by reducing the pace on his returns, and it seemed to unsettle the Brit's rhythm. The minor hiccup was forgotten on his next opportunity though, as he served out solidly for the match.
Although seemingly oblivious to the fact after his previous round success, Murray is now fully aware that he has moved past Tim Henman's existing record for wins on the tour by a British male player, having now notched up a staggering 497. The 500 win landmark will be his next target as he heads into the bigger challenges ahead during the summer months.
Djokovic advanced to the semi-final clash after the man he was due to play in the quarter-finals, the Australian Bernard Tomic, had to withdraw due to a back injury. Whether the avoidance of another match is good news for Murray or not, we will have to wait and see when they clash in the semis. It may mean that Murray is better prepared after his competitive match, but could equally leave Djokovic with plenty of extra energy to take care of the Britain's challenge as a result.
Click to read more
and watch the video
or