Champions League: Barcelona 1 (1) - (0) 0 Manchester City (Barcelona win 3-1)
Los Cules sink Citizens at the Nou Camp despite heroic displays from Hart.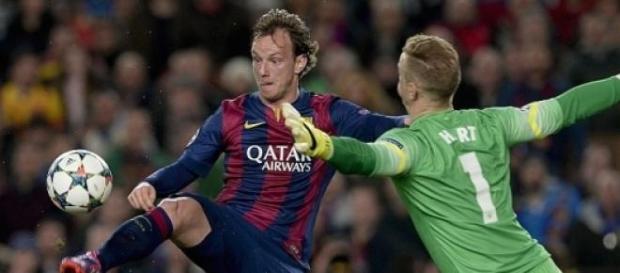 Manchester City were the last English side eliminated from the Champions League, after their 1-0 defeat at the Nou Camp.
Barcelona were in the driving seat last night, following their 2-1 first-leg victory at the Etihad, although Joe Hart did his best to maintain English interests in the Championship League.
The Catalans were inspired right from the start and took the lead in the 31st minute, when Croatian international Ivan Rakitic scored, after being set up by Lionel Messi. The awesome Argentinian was at the heart of wave after wave of amazing dribblings and attacks at the Nou Camp, and it was his stunning 45—yard pass which led to the only goal, as it left Rakitic to lob over the City goalkeeper.
The four-time Champions had 23 attempts on goal, but found Hart in inspired form, as he won a personal duel with Messi and pulled of a catalogue of quality saves to keep Manchester City in the match; he repeatedly foiled Neymar, Messi and Luis Suarez, the two-goal hero from the first leg.
The Citizens' Sergio Aguero was then brought down in the Barcelona penalty area, but he stepped up and failed to convert in what was an ideal chance to get back in the match in the 78th minute.  The 1-1 scoreline would have flattered the Citizens though, had that had gone in.
But Barca dominated the match, with their breath-taking Messi, who was also only inches away from scoring for the 44th time this season, as a couple of free-kicks fizzed onto the roof of the net.
Manchester City have now failed to reach the quarter-finals in all four of the Champions League campaigns, since first debuting in the competition in 2011.  
They are the highest paid team globally in sport, and many will be calling for change at the club as their failure in Europe should not be acceptable at a club with their financial might. There is now genuine concerns for their manager Manuel Pellegrini, as City have lost four out of the last five in all competitions, and there season is surely looking like finishing trophy-less.  They currently sit six points behind Chelsea in the league, with one game in less. #Football