Chelsea fans linked to racist behaviour on Paris Metro
Amateur video footage in Paris before Champions League match includes racist chanting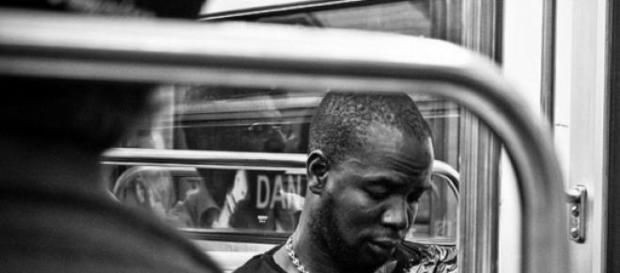 #Chelsea FC may have battled their way to a hard fought draw against Paris Saint-Germain in their Champions League last-16 match on the pitch last night, but they will return to the UK to face accusations that some of their fans were involved in racist behaviour, while travelling on the Paris Metro before the match had begun. The game itself finished 1-1 leaving the Blues in a strong position for the second-leg tie at Stamford Bridge, but that seems to have become a footnote by comparison to the apparently damning amateur video footage that is filling the television news back in Britain.
In the footage, which was taken by a British expatriate on his phone, it appears that a small group of Chelsea football fans actively prevented a black man from getting on board a Paris train.
The pictures show the man being repeatedly pushed back and off of the busy train carriage he is attempting to board, with the sickening chanting from the group clearly stating "we're racist, we're racist and that's the way we like it."
UK police have been swift to become involved in seeking out the truth around the incident and are set to examine the footage that is available. Scotland Yard have confirmed that they take such incidents "very seriously" and will assist in the identification of the perpetrators involved.
Chelsea FC have also condemned any such behaviour and should the people involved in the incident be confirmed as being fans of the club, then they will face a ban preventing them from supporting them in future. They could potentially face disciplinary action themselves though as a result, if UEFA decide that an incident outside of the stadium falls within their own remit.
In that case, Chelsea could face a fine and a warning.
The anti-racism group Kick It Out have added their condemnation of the incident and called for football to avoid becoming complacent over this and similar such incidents. Chairman Lord Ouseley stated: "We know that prejudice is on the increase and that in itself leads to hateful attitudes and this sort of conduct."
The match in Paris finished all-square, after Chelsea had taken the lead in the first-half through a Branislav Ivanovic header. They rode their luck at times against PSG, especially during the second-half as their goalkeeper Thibaut Courtois made a number of good saves to keep the opposition strikers at bay. However, Edinson Cavani scored a deserved equaliser 9 minutes into the second-half from a free header in the area and was unlucky with a right-foot shot later on that shaved the post, but went wide. PSG almost snatched the victory that their fans were craving when a Zlatan Ibrahimovic header was tipped over the bar by Courtois in injury-time, to ensure that Chelsea will be in the driving seat for the second-leg of the tie at home, with a priceless away goal secured.