Holders safely through in five-goal thriller
Arsenal remain on course to retain the FA Cup after enduring Brighton come back on the South coast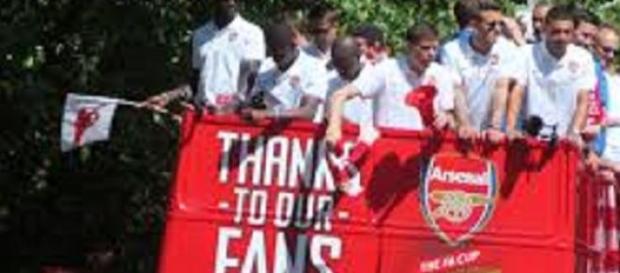 Brighton 2 #Arsenal 3
Arsene Wenger will have been delighted to see his Arsenal side go through at Brighton, on a weekend when so many of his Premier League rivals crashed out to lower division clubs. His own team's survival looked secure early on as they established a two-goal cushion, but Brighton just wouldn't go away and there was little between the sides by the end of the match, as the Gunners had done just enough to go through to the fifth round.
No doubt wary of the results the day before, Arsenal were quickly out of the blocks at the Amex Stadium, keen to establish an early rhythm to their play. It took only two minutes for Theo Walcott, the almost forgotten England speedster, to put their noses in front.
Calum Chambers did well down the right and his pull-back found Walcott free to slide the ball into the net, as he continues to get back up to full speed after a nine-month injury absence.
It was not the start that manager Chris Hughton would have envisaged for the 1983 Cup finalists, but worse was to come as another player who has been quiet recently, Mesut Ozil fired a left-foot shot home for two-nil to the visitors on 24 minutes. It was the German's first goal since September and long overdue. Hughton needed a response from his players and almost had it when Sam Baldock slashed a shot well wide as half-time approached.
No doubt inspired by the pep talk at the interval, the home side began to grow in belief after the break. They got their break as Chambers appealed unsuccessfully for a foul and Chris O'Grady picked up the pieces to slam his right-foot shot past Wojciech Szczesny five minutes in.
The match was back in the balance.
The Seagulls' hopes seemed to have been dashed when Tomas Rosicky showed his manager what the side had been missing, cleverly sliding a 'blind' pass to his left to develop the move with Olivier Giroud, then advancing on to the lay back to volley delightfully beyond David Stockdale in the Championship side's goal. Three-one and the tie effectively settled, or so most observers thought.
There was still thirty minutes to go though and time enough for a Brighton revival. Arsenal jitters began to resurface as Hughton's men pulled another goal back on 75 minutes. The move was simplicity itself, as Baldock was played in through the middle as the away side's defence parted obligingly, and his finish was clinical to flick the ball past Szczesny and into the net.
The London club almost settled it through two Alexis Sanchez free-kicks late on after he had been brought off the bench, as they realised that the tie still required their due attention, one grazing the crossbar and the other well saved by Stockdale.
Arsenal finished the stronger and almost added to their goal tally, but were in the end content just to go through, despite making it harder for themselves than they should have done. Hughton acknowledged that his side gave Arsenal too much of a head start, but was pleased with the effort they showed to make a match of it in the end. #Celebrities #Football