Cambridge ensure Old Trafford payday after draw with Red Devils in Cup
The minnows of Cambridge United claimed a deserved goalless draw with the mighty Manchester United in the FA Cup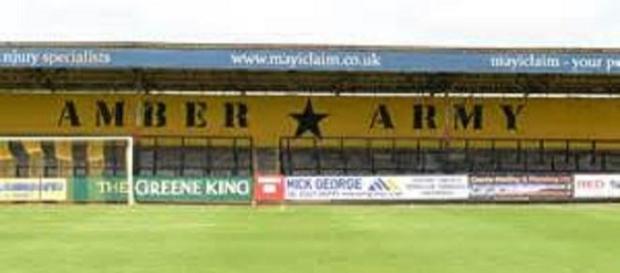 Cambridge United 0 #Manchester United 0
As gulfs in supposed class go, the FA Cup fourth round match-up between the mighty Manchester United and their squad of expensively assembled superstars (£180 million just on their starting XI), with the League Two side Cambridge United could not be much greater. Yet the minnows more than held their own last night at the Abbey Stadium, to claim a memorable goalless draw that ensures a big pay day to come in the replay at Old Trafford.
Manchester United boss Louis van Gaal was less flattering in giving his verdict on the stalemate, claiming that everything had been against his side.
They pressured their hosts towards the end of the match as the likes of Robin van Persie were introduced from the bench, but could not find a way through the hard-working Cambridge rear guard. Van Gaal seemed unhappy with both the referee and the pitch, although he may have added into that the breezy and wet conditions at a tight ground that made for a typical cup atmosphere when a giant-killing is in the air.
United did go close to making the breakthrough over the ninety-minutes, urged on for once by captain for the night Michael Carrick , with van Persie for one being unusually wasteful as he hooked over the bar from close range on 71 minutes, after being played through. Earlier, the seemingly unfavoured Radamel Falcao had been denied acrobatically by the keeper Chris Dunn, as he bore down on goal, and Angel Di Maria had been narrowly high with a free-kick in the first period.
Cambridge had one big chance themselves in the first-half on the half-hour mark, when a cross was headed goalwards only to be cleared by their own man standing on the line, with the resultant rebound being headed narrowly over by Josh Coulson. That prompted head coach Richard Money to leap off his seat in the dugout, as he thought that the dream victory was potentially becoming a reality, until he realised how unlucky his side had been.
The home side brought ex- Red Luke Chadwick on with fifteen minutes to go to stabilise their passing no doubt, yet they had to endure a period of sustained pressure near the end from the visitors at the back. In particular, there was a mass scramble in the box in injury time as defenders and goalkeeper managed to repel the attacking threat. They battled on though and got their just rewards with the replay.
Manchester United will expect to come through still (especially at home), but van Gaal would have preferred to avoid the extra game, as he looks to strengthen their league position in the chase for the top four.
For those Cambridge supporters fortunate enough to get tickets for the replay, they can look forward to seeing their side strut their stuff at the 'Theatre of Dreams'. For the club itself, there is the unexpected bonus of a nice little earner from their share of the gate receipts. For the players, it was the least they deserved after showing tremendous spirit and effort over the tie. #Football