My Best Premier League eleven between 1997-2001
The second chapter of the Premier League, which started just after the European championships in 1996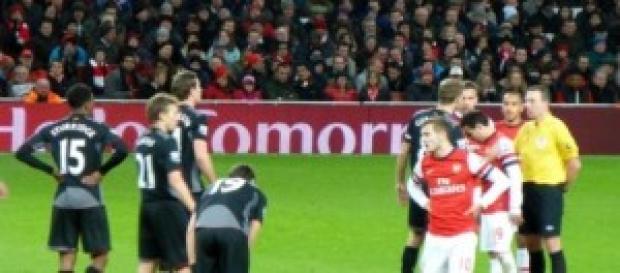 The second era of the Premier League began after the first era ended with Manchester United being pushed to their limits by Newcastle United twice and Blackburn Rovers twice. This era also saw not only new managers but players joining the Premier League,Mostly from abroad. With the likes of Patrick Vieira , Patrick Berger, Marc Overmars and Emmanuel Petit all joining the English game.However this era would see Eric Cantona leave football altogether after guiding Manchester United to the 1996-97 Premier League title.
As for the television deals went. It was Sky that continued to dominate with the live & exclusive Premier League coverage .While the England and F.A. contract switched from the BBC to ITV who also had the exclusive Champions League coverage in the UK. BBC had kept the highlights package of the Premier League. The amount of games that Sky shown during the second era of the Premier League was the same 60 as it was during the first era.
The manager that I have chosen for this era is going to be Arsene Wenger because he came into the English game relatively unknown. But Arsene Wenger not only changed how
Arsenal
played but also enhanced how the English game & particularly the Premier League came across European football. Wenger did the double in the 1997-98 seasons by leading Arsenal to the F.A. Carling Premiership (as it was known back then) and the F.A. Cup. The season after Wenger nearly led Arsenal to another league & cup double but came up short both against Manchester United. Nevertheless I think he was the best manager during the second era of the Premier League. 
The players that I have chosen for my best Premier League eleven during 1997-2001 are as followed. 
GK- David Seaman 
RB- Gary Neville 
CB- Martin Keown 
CB- Marcel Desailly 
LB- Graeme Le Saux 
CM- Patrick Vieira 
LM- Steve McManaman 
RM- David Beckham 
LF- Gianfranco Zola 
RF- Dennis Bergkamp 
CF- Alan Shearer 
Now I am going to give my reasons why I have selected those players for my best Premier League eleven during 1997-2001. 
Starting with the back five , the goal-keeper and the back four. 
David Seaman:
David Seaman was the best goal-keeper during this era for me. He commanded his penalty area with authority for both Arsenal and England. He also contributed to Arsenal championship title in 1998. David Seaman was a great shot-stopper pretty much like Peter Schmeichel did for Manchester United but Seaman had another great weapon to his armoury his one-handed throws, which would go beyond the half-way line and contributed to the likes of Overmars , Bergkamp and Anelka to penetrate their opponents penalty area. 
Gary Neville:
Gary Neville was one of the best fullbacks that world football has ever seen. For both Manchester United and England he was brilliant at doing what he does best. Which to make left midfielder or winger's lives on the football pitch an utter misery. Neville's attacking didn't go missing when playing for Manchester United, he would often go beyond past opposing fullback and whip a beauty of a cross into Teddy Sheringham, Dwight Yorke, Andrew Cole and Ole Gunnar Solskjær to score a vital goal in many championship winning seasons. That's why he has to be the best fullbacks that I had the privilege to see him play.
Martin Keown:
Martin Keown was a gritty, hard-working and very determined defender that I have seen in the Premier League.Forming a battled harden partnership with Tony Adams, Steve Bould and Gilles Grimandi. With his no nonsense approach to dealing with opposing strikers earned him a regular starting role with the national side. And that's the reason why Martin Keown was selected by me for this best XI Premier League side. 
Marcel Desailly:
Marcel Desailly was the most passionate, driven,determined and gifted defenders that I have seen playing football. Given the captains armband at Chelsea in 2000 after being part of the wonderful French side that dominated world football for four years. It was his partnership with Frank Leboeuf that cemented Desailly's place as one of the greatest foreign player that the Premier League has seen. world class defender at his peak. 
Graeme Le Saux:
A regular starter for both Chelsea and England during the years of 1997-2001. A left-back who often pop and score a vital goal for both club and country. Le Saux would fly down the wing of the pitch and regulary without fail find his target ...his striker who would finish off the attack. Le Saux would do this for Chelsea until the season of 2002-2003. Another great player who should had more opportunities at the international level. 
Lets move onto my midfielder that I have chosen for my team. 
David Beckham:
David Beckham during this period of the Premier League was just known as the boy who cost England a place in the quarter-finals at France 98. Beckham was also known as the free-kick specialist, who spent most training days practicing his technique every day. Beckham helped Manchester United to complete the treble in 1999. After another disappointing summer with England, David Beckham became a hero a year later for his country with a man of the match performance against Greece. It was Beckham who stepped up at the last minute of the game, curled a magnificent free-kick into the top left-hand corner. Beckham was forgiven for his error in Saint-Etienne three years earlier. 
Patrick Vieira:
Patrick Vieira was the Arsenal and French powerhouse during this era. Vieira came up against players who were more experienced than himself. His battles with Roy Keane were legendary too watch. It was the main reasons why fans were so excited to see Vieria battle Roy Keane twice a season in the Premier League. Patrick Vieria was always going to be a leader for Arsenal and for his country.That is why he's in my team for his super tackles, great distribution with the ball and he often score goals that made fan's say "crikey what a goal that was".
Steve McManaman:
Steve McManaman was Liverpool's and England's answer to Ryan Giggs. Super fast with the ball, brilliant eye for the goal. McManaman was always direct when facing opponents pretty much like Giggs was. McManaman would knock the ball past a full -back and sprint to latch onto the ball and cross the ball into Robbie Fowler, Ian Rush, Stan Collymore and Michael Owen. Before moving to Real Madrid in the summer of 1999 and ending up with the Champions League trophy in May 2000. 
And finally the guys that do the vital part in football and that is to put the ball into the net. 
Dennis Bergkamp:
Bergkamp was a showman, entertainer and pure class when it came to football. Dennis Bergkamp came to Arsenal in the summer of 1995 from Inter Milan for £7.5 million. During this Premier League era Bergkamp took over from Eric Cantona as a centre forward not a striker but Bergkamp would go on to score 120 times for Arsenal and during this period Bergkamp not only scored the goals but he also had a huge amount of assists. Bergkamp was the best player in the Premier League during 1997-2001. 
Alan Shearer:
Alan Shearer still is the Premier League all-time goalscorers with scoring 260 times for Blackburn Rovers and his boyhood team Newcastle United. It was at Newcastle United where Alan Shearer dominated defenders for fun.During this period Shearer became captain for both Newcastle and England. Shearer won many plaudits from fan's and football pundits across the country and was feared by many defenders across the world. 
Gianfranco Zola:
Gianfranco Zola was voted the greatest ever player to for Chelsea football club. Zola came to the Premier League in the autumn of 1996 from Parma. Zola would score 59 times for Chelsea. Zola would torment defenders for fun with his dazzling footwork and out for this world tricks. Zola best goal-scoring seasons were in 1998-99 and his last season 2002-03 which he scores 13 & 14 respectively.
Click to read more
and watch the video
or