Mokoka wins Great Scottish Run as Gebrselassie drops out
South African Stephen Mokoka claims Great Scottish Run title in Glasgow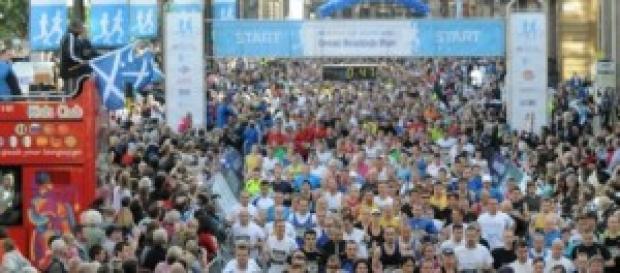 South African Stephen Mokoka took the men's title at the Great Scottish Run in Glasgow this morning, following defending champion and former World Record holder for the marathon, Haile Gebrselassie's forced retirement. The 41 year old Ethiopian distance legend had been all smiles leading up to the race and was expecting to have a solid race, despite health issues for much of the season, but was only able to keep with the leading pack for the first 19 minutes of the race before signalling that he would have to drop out. He suffers from exercise- induced asthma and it appears that breathing problems caused his downfall today, although immediately after his retirement from the race he seemed to be stretching his calves as though he had some sort of muscle problem.
In his absence a quality field forged ahead at a strong if not excessive pace, with four men breaking clear including Mokoka and the three Kenyans, Mark Kiptoo, Stephen Chemlany and Charles Cheruiyot. Commonwealth Games marathon winner, Mike Shelley of Australia, had pushed Chemlany back into silver medal position when winning his title earlier in the summer, but was unable to stay with the leaders over the shorter half marathon distance this time.
Mokoka it was who found an extra burst to finally break clear in the later stages to finish in a respectable one hour, one minute and 25 seconds, sixteen seconds slower than last year's winning time. He finished seven seconds ahead of Chemlany with Kiptoo close behind in third. Top Brit was Callum Hawkins back in 6th place on his debut at the distance, not far behind Shelley.
Mokoka had been denied the opportunity to complete in the Commonwealth Games as his country did not send any distance runners to the event, so this in part would have been some recompense for that.
Defending women's champion, Susan Partridge was unable to feed off the local support to retain her crown, as she quickly realised that the class at the front of her race was a bit too hot for her to compete with. Instead she opted for a more conservative pace and came through strongly to claim 5th place. The Ethiopian 2012 Olympic marathon champion, Tiki Gelana was another to find the pace of the leaders too strong as she was somewhat surprisingly dropped before the three mile point had been reached, although in truth she has not been in the best of form this year.
The women's title was instead taken by another of the pre race favourites, two times World marathon champion Edna Kiplagat from Kenya in a race record time of 1 hour, seven minutes and 57 seconds. She had established a big lead of 56 seconds over silver medallist and fellow Kenyan, Caroline Kilel by the finish, with Gelana coming through to take third well outside 70 minutes. #Athletics