'90 Day Fiance Happily Ever After,' Ashley Martson talks 'fake' news & her brain
Don't miss our Facebook page!
Like Blasting News page on Facebook: we will keep you updated with all the latest news.
Katy Perry may have millions of fans across the world who would gladly share their neighbourhood with her, yet it seems that she is not particularly popular with a group of elderly nuns in America. Despite the famous popstar expressing a keen interest in an old convent overlooking Los Angeles, the Sisters have gone against the wishes of the archdiocese and sold to a local businesswoman instead.
Perfect location
The hilltop property in Los Feliz is certainly perfectly situated to afford the new owner fantastic views over LA, just the sort of home from home that a star of the stature of Ms Perry would be looking for.
It dates back to 1927, when it was built on eight-acres of land, but has been unoccupied since 2011. Prior to that it had been the home of a group of nuns, with the remaining five still alive being moved into retirement homes situated nearby to live out their remaining years.
Ms Perry's interest
When the popular but somewhat risqué singer heard of the property becoming available in 2012, she expressed her interest in acquiring it.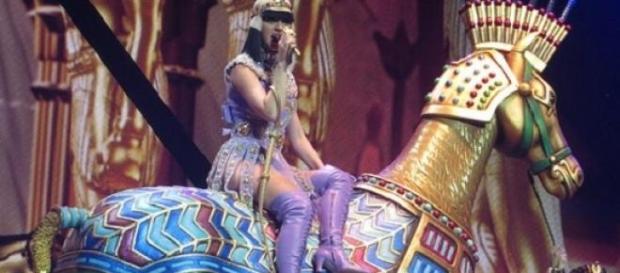 Negotiations over the sale are believed (according to the Los Angeles Times) to have progressed as far as an agreement over the sale with the LA archdiocese. The nuns though dispute the right of anyone but themselves in having the final say over the sale.
Internet searches raised eyebrows
The Sisters' reservations about Perry's character were prompted by some internet search results that clearly didn't meet with their blessing. After seeing excerpts from the popstar's videos, Sister Rita Callanan expressed her views to the LA Times as not being "happy with any of it."
Clearly the thought of a person whose back catalogue included the likes of "I Kissed a Girl" was not to their taste.
Their view was also not likely to have been improved if they came across some of the provocative poses adopted on her album covers, such as "Teenage Dream". Of course to her fans that is part of the musician's appeal, justifying the singer's sale of 11 million albums and 81 million singles across the globe, besides attracting millions of followers on Twitter.
Personal plea
It is understood that Ms Perry made a personal appeal to the nuns this year, informing them of her wish to live at the estate and to additionally move both her grandmother and mother into the property.
Even an impromptu burst of song, including the old gospel favourite "Oh, Happy Day" failed to win her doubters over it seems though.
Alternative buyer
The nuns decided two weeks ago to sell instead to a bar owner and restauranteur called Dana Hollister. She is understood to have already moved into her newly purchased abode, after offering in the region of $15.5 million for the property. Ms Perry's initial offer was thought to be around $1 million lower, but included a far larger cash component in the total figure.
Archdiocese suing
Although legal proceedings have been started in an attempt to prevent the sale to Ms Hollister, the nuns seem determined to dig their heels in and defy the archdiocese's decision. The order's chief financial officer, Sister Catherine insisted that it was their decision to make and no one else's. She added that rather than the archdiocese taking care of the nuns, "we've been taking care of ourselves."
Click to read more
and watch the video