Sean Spicer: the President's new spin doctor
Sean Spicer is Donald Trump's new spin doctor but what is that exactly and what does the role entail?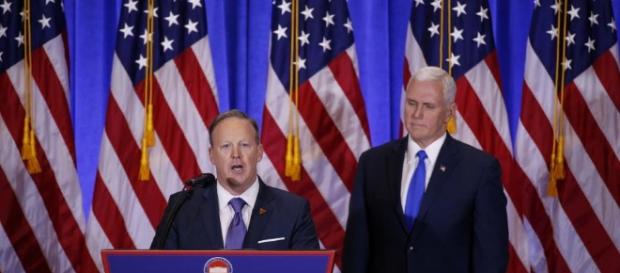 Donald Trump has appointed Sean Spicer as the White House Press Secretary and #communications director, the Sun newspaper reports. But the role will effectively be Trump' spin doctor. The questions to ask are, who is he, what is a spin doctor and what does the role entail?
Who is Sean Spicer?
First of all, a bit of background information. Spicer was born on September 23rd, 1971, in Barrington, Rhode Island, USA. His first job in politics was working for Republican Congressman for the state of New Jersey Mike Pappas in the late 1990s. He eventually became the Communications Director and spokesman for the House Budget Committee and then the Communications Director for the Republican Conference of the House of Representatives.
From 2006 to 2009 Spicer was the assistant US Trade Representative for President George W. Bush.
The role of spin doctor
Spicer in his new role has been described as being Trump's spin doctor, but what is that exactly? The definition of a spin doctor according to the English Oxford dictionary is someone employed "to give a favourable interpretation of events to the media, especially on behalf of a political party". In trying to find more about the role of a spin doctor, it is important to examine those in the past who have taken up such a position. A prime example is that of Alistair Campbell, who served as Tony Blair's spin doctor after he was elected in 1997. The BBC reported that for Blair, a big part of his handling of the media was using 'spin'. New Labour was described as being the most "media-obsessed government" that Britain had had in modern times.
And a key part of that obsession was the role played by Campbell himself. The BBC noted that from the start, there seemed to be a tendency to "brownbeat and cajole journalists", and to "fight for every comma and exclamation mark in every headline, quote and piece of analysis". Further on from this was the tendency to tell different newspaper and proprietors "what they wanted to hear". With Rupert Murdoch Tony Blair seemed robustly anti-euro and othertimes a "keen" libertarian. It was clear that the role of spin was crucial to the Labour party in ensuring positivity in the media towards them.
Already started
And that, in sorts, is the role that Sean Spicer has to fill. And, although very early on, he has already begun to fill the role. As the website Newsonahand stated, Spicer has already sold himself as being in "open battle" with a lot of the mainstream media, pledging to "maintain the press accountable". It does seem that Spicer will have a big role to play in Trump's presidency, especially in ensuring that positivity trumps (excuse the pun) negativity with regards to the #new administration. #tell different newspapers