'Khaidi no 150' three days collections total worldwide crossed Rs 50 crores
'Khaidi no 150' collected Rs 50 crores share from its worldwide box office in its three days run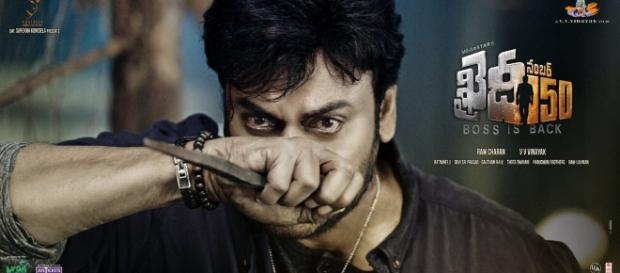 'Khaidi no 150' box office collection three days income report:- Megastar Chiranjeevi's "Khaidi no 150" three days collections total worldwide at Ap/Tg and overseas box office will be reported here. Before checking three days collections, let's see the film's second day collections. The movie collected Rs 29.4 crores at the Ap/Tg box office, Karnataka - 5 crores, USA - 6.1 crores, Rest of the areas - Rs 2.5 crores. The total 2 days collections of the film worldwide is Rs 43.1 crores. let's check three days collections below.
'Khaidi no 150' (aka Khaidi 150) three days Ap/Tg box office
The film collected West Godavari - 42 lakhs, Guntur - 43 lakhs, Krishna - 42 lakhs and Nellore - 28 lakhs.
The total third day collections of the movie at the Ap/Tg is Rs 6.2 crores. The total 3 days collections of the movie at the Ap/Tg box office is Rs 35.6 crores.
The movie's rights were sold for Rs 66.5 crores at the Ap/Tg, So it needs to recover Rs 31.6 crores share to reach its breakevent amount in this region.
'Khaidi no 150' 3 days collections at overseas and karnataka markets
The movie collected $1600k from the USA box office in its three days run. In Karnataka, the movie collected close to Rs 30 lakhs on third day, the total 3 days karnataka collections of the film is Rs 5.3 crores. The Rest of the areas three days collections estimated to be around Rs 2.7 crores.
'Khaidi no 150' total worldwide 3 days collection
The total 3 days collections of "Khaidi no 150" at the worldwide ticket window is Rs 50 crores share. Thus the movie reached Rs 50 crores share mark at the ticket window in its 3 days of its release.
The worldwide theatrical rights of the film were sold for Rs 89 crores, it still needs to recover Rs 39 crores at the ticket window to reach its breakeven amount. The movie can perform during the weekend at the ticket window and it was estimated to collect Rs 15 crores share on Saturday and Sunday. Finally, let's wait and see how the movie performs at the box office in its forthcoming days.
'Khaidi no 150' movie talk
The film received Above Average to hit talk from the common audience. The commercial elements in the movie is going to help the movie at the box office big time to attract both class and mass audience. Overall, the response for the movie from audience is good and they are enjoying the songs, emotional content and Chiranjeevi's screen presence.
'Khaidi no 150' Ammadu Lets Do Kummudu song sensation
The film's first song which released on youtube a few days ago hits more than 10 million views which is an All-Time record for a Telugu lyrical song video on youtube. At the same time, this song remained as one of the best one in the movie where Chiranjeevi rocked with his dance performance. The producer Ram Charan will also dance alongside Chiranjeevi for 30 seconds in this song which remains as one of the Highlights of the movie. #Khaidi no 150 collections #khaidi no 150 three days collections #khaidi no 150 3 days total worldwide collections