Star Wars Rogue one, the latest release from Disney
Rogue One sets a new tone and gives the franchise a much needed makeover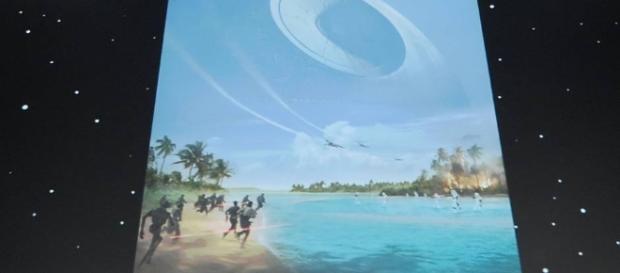 The next installment of the #Star Wars saga, Star Wars Rogue One is set to open at theaters everywhere by tomorrow and while one may cringe at the thought of Disney handling the plot and script lines of the famous franchise since Disney created Mickey Mouse in 1940's, the truth is indeed stranger than fiction. For starters, the last installment from the Star Wars Franchise "The Force awakens" did not disappoint the public despite being produced by Disney. Granted the script was a tad skewed and included some scenes that were hard to swallow for any fan, but still fared well and contained the "Lucas" touch.
Star Wars Rogue one is tagged as a standalone star wars movie but actually takes place after #Luke Skywalker and Leia are born, at a pivotal period in the fight against the dark forces of the galaxy by the nearly extinct Jedi.
While the basic premise of the movie was disclosed by the few short lines by Senator Mon Mothma in Star Wars the fourth episode, it would nevertheless be interesting to see how the rebels manage to score the death star plans away from the Empire. Felicity Jones stars in this movie as Jyn Erso along with Cassian Andor as Diego Luna and with a supporting cast that includes James Earl Jones who gets to reprise his role as the voice of Darth Vader.
Gareth Edwards sets a dark tone for the movie
But plot lines aside, the movie is rumored to be grittier than all other star wars movies combined, and with Gareth Edwards giving the old Star Wars formula a makeover, making it darker, stark and realistic, it remains to be seen if this prequel will be a hit with fans of this franchise. But realism aside, most of the trailers of the movie feature quite a few staggering scenic features, as in where we get to see the death star close up, rising against the planet's skyline to the cruiser hovering just meters from the surface of the planet.
However, some of the trailer scenes, as with new characters and the new robot hint to a faster paced plot line with less of the often used "cute and cuddly" Disney formula.
Both the "Death star rising" and the one with the massive cruiser hovering just meters above the surface are not realistic scenarios. Even an artificial planet like the death star one will exert enormous gravitational forces on all nearby objects including Scraif, the planet in question, causing it to break apart – case in example, Jupiter's satellite, Io. And for another, a cruiser hovering meters above the surface is not possible either, but hey, it's just a movie, right? Nope, to millions of Star Wars fans, Rogue One is anything but just a movie. Irrespective of whether some of the scenarios are hard to digest or believe in, it still should be fun to watch it with your loved ones. Until then, I will be reserving my judgement, and have fun watching it tomorrow as it releases worldwide. #Lucas films