Secret Superstar teaser: Aamir Khan rocks in a cameo role with an interesting dialogue
Aamir Khan Productions released 'Secret Superstar' teaser which features Aamir Khan in a cameo role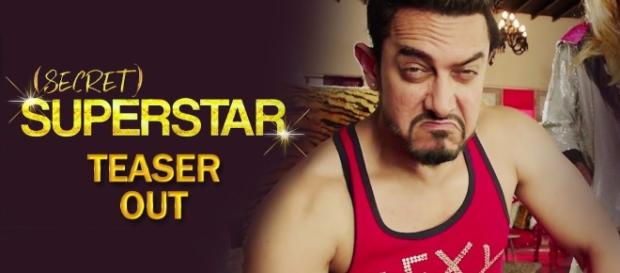 #secret superstar teaser: the teaser of Secret superstar was out now. The film star Aamir Khann in a special cameo role which is the special attraction to this Bollywood Entertainer. Directed and written by Advait Chandan, who is the former manager of Aamir, Secret Superstar traces the Journey of India, a 14year old girl from Vadodara, whose dream of becoming a singer changes her life and of everyone around her. Zaira Wasim, Meher Vij, Raj Arjun, Tirth Sharma, Kabir Sheikh, Farrukh Jaffer are playing crucial roles in the movie. Music composed by Amit Trivedi and the film was produced by Aamir Khan and Kiran Rao. Let's check the teaser below.
The teaser of Secret Superstar is a Good one from Aamir Khan as an actor and producer
The teaser showcases the dream of a Girl who wants the entire world to hear her voice with her songs. Even though her mother also likes her daughter to be recognized throughout the world, her father is a very strict person who doesn't like the Girl to become a Singer. Then the Girl chooses Youtube as a platform to showcase her Talent and Finally, Aamir Khan's appearance in the tease is the Highlight of it. He says at the end " Superstar! Superstar! If you enjoyed the video then click on like. And if you didn't, then change your taste!" ends the teaser on a funny note.
It was really a good one from Aamir Khan either in the form of his Guest appearance in the film or else Backing a Good subject.
The film is slated for release on August 4th, 2017.
Interim, his 'Dangal' movie is slated for release on Dec. 23rd, 2016. The movie is going to have a huge release in Both Indian and Overseas markets. Already the Promos of the film raised curiosity among the film and created good buzz among the audience. Aamir Khan is coming after 2 years with this movie 'Dangal' and hence people can't wait to watch this Bollywood superstar amazing screen presence and performance. He holds the Highest grosser Indian film record with 'PK' movie and hence everyone are curious whether his 'Dangal' can beat his own record or not? So let's wait and see what happens in a few more days as the film releasing next week. #aamirkhan #secret superstar teaser