The Economy of the United Kingdom reduced to 0.5%
The last quarter reveal a reduction of the growth that was unexpected, still growing.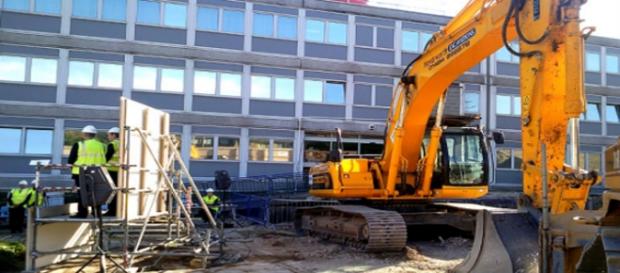 Great Britain GDP(gross domestic product) has reduced to 0.5% in the last quarter due to construction sector slowdown and manufacturer recession. The year started with a growth of the 0.4% and raised to 0.7% in the second quarter, now against expectation of many analyst. Analysts had forecast growth of 0.6% for the quarter. the growth is under the expectation
Still strong the main sector: service, production and agriculture respectively growing to 0.7%, 0.3% and 0.5% due maybe a drizzly August the construction loss 2.3% of growth index 
In the complex the Britain economy is growing of 2,3% compared to the previous year and so as Chanellor Osborne said: "UK continues to outperform major economies"
Sterling remain strong and fell of 0.2% against dollar
Markets loss on the news that economy was not growing as strongly, However this is the eleventh quarter of profit for the Uk that does not have reason to worry about its economy, but for sure it is that is required to keep the situation under control.
Belong declarations of two major analyst/economist: Chris Williamson chief at Markit and Rob Harbron managinc economists at the centre for Economics and Business research.
Chris Williamson
"The cause for concern here is that the business surveys indicate that the slowdown is spreading from the struggling manufacturing sector to the far larger services economy, meaning growth looks set to slow further in the fourth quarter.
There are signs that companies are becoming more risk averse as global growth worries intensify, pulling back on their hiring, investment and spending intentions, which could lead to the slowdown becoming deeper and more entrenched. The economy therefore looks to be on course to grow by 2.3% in 2015, down from 2.9% in 2014 and below its long term trend rate."
Rob Harbron:
"Today's findings don't give huge cause for celebration, but neither are they too gloomy. The economic recovery may be built on relatively fragile foundations, including the imbalance between different sectors, but growth is still ticking along for now. Certainly employment levels and household spending power are improving domestically.
The key threat on the horizon comes from a cooling global economy alongside a less-supportive inflationary environment next year.
Cebr still expects the UK economy to expand comfortably above the 2% mark this year, but this will be followed by a gradual slowdown over the next few years."
Click to read more
and watch the video
or