2020 Jeep Gladiator: 5 things to know about the Wrangler pickup truck
The 2020 Jeep Gladiator debuted Wednesday at the 2018 LA Auto Show. The Gladiator offers all the necessary hardware to tackle off-road expeditions
Jeep recently launched its Wrangler-based Gladiator 2020, and the internet is all over it. Tim Kuniskis, Head of Jeep brand, even claims it's "the ultimate vehicle for any outdoor adventure" and we can't disagree.
Here are five things you need to know about 2020 Gladiator Jeep:
This will be the first pick-up truck by Jeep since the 1992 Comanche, which turned to be a big flop for the company. Jeep claims it to be the most capable midsize truck ever.
The sales of truck-like vehicles have drastically gone up in recent times. With Wrangler like looks and design and a nameplate of Jeep, this could just be the next go-to vehicle for many purposes. The specifications of this vehicle have made it into one of the best off-road automobiles which one can get in the market.
The Jeep Gladiators is expected to arrive in the market between April and June 2019 as the 2020 model. The pricing of this pickup truck has not been revealed it, but it is likely that the base model will cost close to what an equivalent Wrangler costs.
This is not just another pick-up truck hence there has been a lot of thought given to intricate details to make sure they make a masterpiece. And boy! They did succeed. It's also sort of a workhorse, capable of towing 3,475 kilograms and transporting 725 kilos in a five-foot area which has been provided on the back.
Gladiator can dive into the water up to 30 inches and along with the fact that there is a ground clearance of 11.1 inches. More than just a Wrangler with a bed, the Gladiator can tow 7650 pounds or haul 1600 pounds.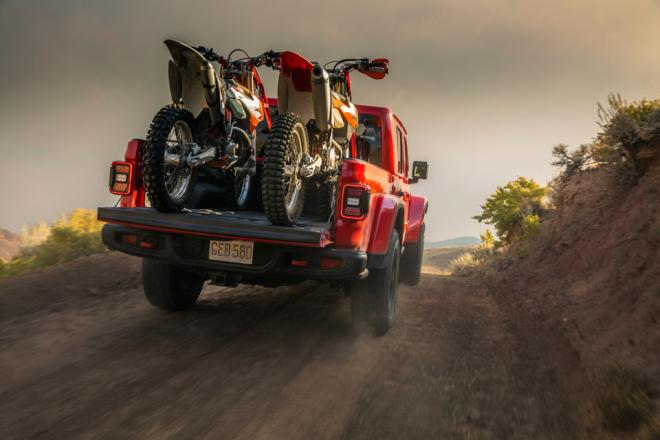 This news article has been verified through:
https://www.cnet.com/roadshow/news/2020-jeep-gladiator-wrangler-pickup-truck-la-auto-show-debut/
https://www.mlive.com/auto/index.ssf/2018/11/2020_jeep_gladiator_truck.html
Click to read more
and watch the video
or