Protests against Dog Slaughter in Iran
Animal-rights activists and environmentalists protest against the killing of stray dogs.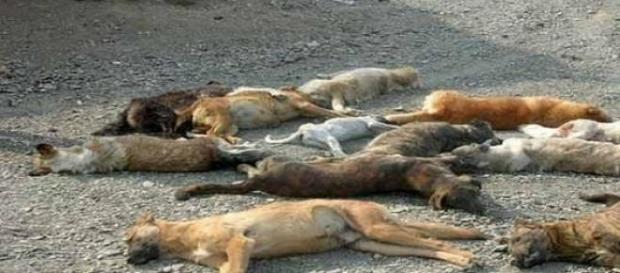 The protests against dog slaughter began after the emergence of a video filming four men injecting stray dogs in Shiraz with what is claimed to be acid by some activists. It was only months ago, in November 2014, when Iran's parliament passed a bill saying "Walking dogs, trading them or keeping them at home will be punishable by 74 lashes or a fine of 1m to 10m Tomans ($320 to $3200 at that time)".
"Walking and playing with
Animals
such as dogs and monkeys outdoors and in public places are harmful to the health and the peace of other people, especially kids and women, and are against our
Islamic culture
," the bill says. Dogs are considered "unclean" animals under Islamic laws and dog ownership has become a sign of resistance to
hard-line ideology in Iran
. However, not until the last few months was the cruelty toward dogs to the extent that is no longer tolerated by animal-rights activists and environmentalists.
The slaughter of stray dogs started a few months ago in some cities including Shiraz, Mashhad, and Isfahan. The men in the disturbing video, which caused outrage on social media, asserted that they were getting paid for killing stray dogs. Activists claim that Shiraz Municipality is the organization in charge of the dog killings in Shiraz. The policy seems to be controlling the population of stray dogs.
On April 18th, a population of about 200 protestors gathered in front of Shiraz Municipality to demand the cessation of cruelties and punishment for dogs. The held signs read "Be The Voice of The Voiceless" and "Stop Killing Dogs". On April 19th, the protests reached Tehran and Mashhad. About 500 Protestors met in front of the Department of Environment in Pardisan Park in Tehran. Protestors also signed petitions to stop this agonizing act and inaugurate animal shelters and vaccination processes instead.
Masoumeh Ebtekar, head of the Department of Environment and a vice president of Iran, joined the protestors in front of her office building for a few minutes and promised that the case will be litigated.
Click to read more
and watch the video
or