A TransAsia plane carrying 58 passengers crashes into Taiwanese river
Rate this title
Rescuing operations are ongoing with at least 23 passengers confirmed dead and 20 still missing.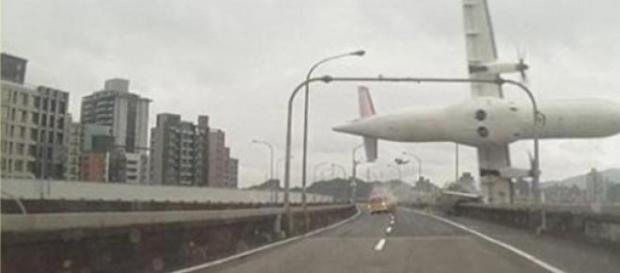 At least 23 people died and 15 were rescued from the wreckage of TransAsia passenger jet GE235, heading for South-eastern China, as it crashed into a Taiwanese river shortly after take-off. Shocking video footage of the incident shows the plane clipping a freeway overpass before plunging into the Keelung River in Taipei, Taiwan.
The plane is lying half-submerged in the river, with rescue teams having to cut the fuselage open to free the victims trapped inside. Television footage showed over 15 passengers being rescued alive and swimming to safety, including a Chinese child rushed to the hospital with minor injuries. Over 20 passengers are still unaccounted for.
The Taipei Fire Department spokesman said that the missing passengers are believed to be either still inside the half-submerged plane fuselage or were pulled downriver. According to Taipei's local news, eye-witnesses describe seeing passengers thrown out of the plane upon impact with the river. More than 1000 emergency personnel, including the military, are at the scene and the rescuing efforts will continue.
The local news aired the final communication between the pilots and air traffic control, where the crew can be heard shouting "Mayday! Mayday! Engine flame out".
What exactly caused the ATR-72 turbo prop plane to crash only a few minutes after take-off is still unknown. The plane's black boxes have already been recovered and will be analysed by investigators.
A taxi-driver was also rushed to hospital with severe head injuries after his vehicle was hit by one of the wings of the plunging plane, on the freeway overpass.
The TransAsia CEO, Chen Xinde, offered a "deep apology" to all the victims and their families and guaranteed that all their planes have been "under thorough scrutiny" since mid-2014. According to Taiwan's Civil Aeronautics authorities, the plane was less than one year old and had been serviced a week ago. TranAsia, popular for its low-cost tickets, had already seen one of their planes crash in the Taiwan Strait, last July, killing 48 people and injuring 10. 
Click to read more
and watch the video
or