Nvidia GeForce GTX 1180: New model name emerged in benchmark
A GeForce GTX 1160 in turn would therefore correspond to a GeForce RTX 2060.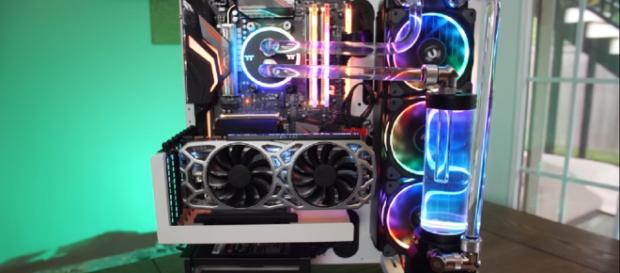 After a possible GTX 1160 as Pascal Refresh or a GTX 1660 Ti as a slimmed-down Turing model was discussed, a "GTX 1180" has now appeared in the database of GFXBench. If the read-out data is correct, it will be based on a GTX 2080 with 2,944 shader units and would presumably dispense with RT and tensor cores for features such as raytracing and deep learning supersampling. This is also supported by the almost identical benchmark results of the two cards.
Updates
A GeForce GTX 1160, in turn, would, therefore, correspond to a GeForce RTX 2060 with 1,920 shader units and could round off the current middle class down.
When and if the said graphics card models will actually appear, is currently not foreseeable. One possibility would be to keep the models as a trump card, depending on how AMD's rumoured "Navi" generation hits in July. Conceivable, therefore, would be a GeForce GTX 1180 Ti or GTX 1170, but there is currently no evidence.
I'm curious if the solid evidence that Nvidia will have three graphics card series in parallel on the market (Geforce RTX 20x0, Geforce GTX 16x0 and Geforce GTX 11x0), is ultimately true.
At least at CES press conference only Geforce RTX 2060, Geforce RTX Mobile and the new Gsync standards were the big topics. An obvious date for graphics card innovations would be the Computex 2019, this year from 28.05. until 01.06. takes place.
Asus ROG Geforce RTX 2080 Ti Matrix
After Asus recently launched Nvidia's Geforce GTX 980 Ti and AMD's Radeon R9 290X graphics cards under the Matrix brand, the current Turing generation is back in the starting blocks. For CES 2019, Asus ROG Geforce RTX 2080 Ti Matrix announced that utilizes the same PCB as the ROG Strix, but price and performance technically positioned with a new cooling solution.
The Nvidia board partner speaks of the first fully integrated all-in-one water spring in a graphics card. Broken down this means that the aluminium heat sink is not interspersed with heat pipes for heat transfer to the GPU and does not use a vapour chamber as the base plate, instead, the waste heat is removed by means of water - whether copper or aluminium tubes are used, Asus does not reveal.
The Wakü block with enlarged copper bottom plate is supposed to cool the GDDR6 memory in addition to the TU102 GPU.
The voltage transformers must manage with slats in the aluminium cast frame. To keep the GPU block as flat as possible and thus maximise the cooling surface of the overlying radiator, unlike most all-in-one solutions, the pump sits externally to the left. Stay tuned for more Nvidia's Geforce GTX 980 Ti and GeForce GTX 1180 updates.
This news article has been verified through:
https://www.techquila.co.in/nvidia-geforce-gtx-1180-rtx-2080/
https://www.tech-critter.com/gtx-1180-gfxbench-benchmark-leaked/
Click to read more
You will watch a video to read the news
or