New modular car concept will see Los Angeles going bubble
Oiio Studio presented innovative bubble-like shared urban transportation concept.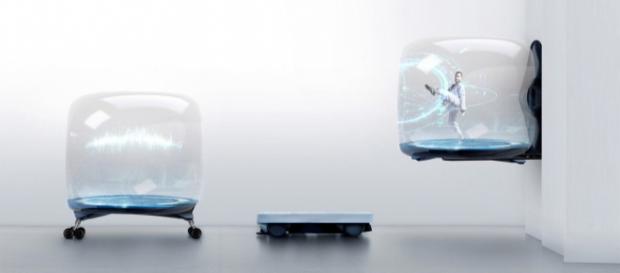 Oiio, an architectural #Studio with offices in New York and Athens, recently outlined a proposal for a new urban transportation concept which they envisage could be best tested in the sprawling city of Los Angeles. The main problem with the current modus operandi for cars in a city, they believe, is the low efficiency of cars used privately which causes an unacceptably high resource usage. During most rides a car carries only one or two persons, yet the empty front passenger seat, the trunk or the rarely used rear seats must nonetheless always be transported, disregarding their necessity for a particular journey. As the #New York-based studio points out, "The biggest disadvantage of the privately-owned car is the fact that it uses too many resources for too little effect."
According to Oiio, the solution can be simple: disconnect these components and create a better, seamlessly connected mobility system by splitting a car into several modules each containing its primary working components, such as the engine, the cabin, and the trunk.
Within their futuristic approach, from all three modules needed to make a car an urban dweller would only have to own a single one, the cabin. Centrally controlled artificial intelligence hub would enable provision of engine and chassis units suitable for a given journey. And should you happen not to own a cabin of your own, a unit from a pool of available shared cabins will arrive to your address if requested.
Oto Pod concept
Published in detail by Dezeen and Eco Urban Hub, the Oto concept was created in response to the Automobility Designer/Developer Challenge 2017. Ar the LA Auto Show, the challenge asked participants to envision a novel transportation method for the notoriously congested Pacific city.
Bubble-like cabins
In a nutshell, Oto is centred around bubble-like cabins passed around on wheel bases that could not only follow roads, but would even be capable to climb up buildings.
Such transparent pods could be mounted onto an electric powered, wheeled base on demand, and will be configured to shuttle its user to a particular destination. Bases and cabins would be interchangeable, and privately owned transparent bubbles would only need to be temporarily fixed to a track system moving the cabins horizontally and vertically. Oto effectively is a self driving taxi network with a provision of some of its components to be privately owned. But don't hold your breath: the concept so far is just that - a concept illustrated by a few computer generated images and a short animation reel. In their presentation Oiio appear not to go in much detail of the concept's necessary components, as well as how the whole platform will be assembled for a journey and how it will be driven. And the last but not least, they did not elaborate the most exciting and yet most scary bit: how their bubbles will climb a wall. #Los Angeles