Samsung Galaxy Note 8 spotted carrying 256GB ROM
The Galaxy Note 8 has been spotted carrying 256GB of internal storage.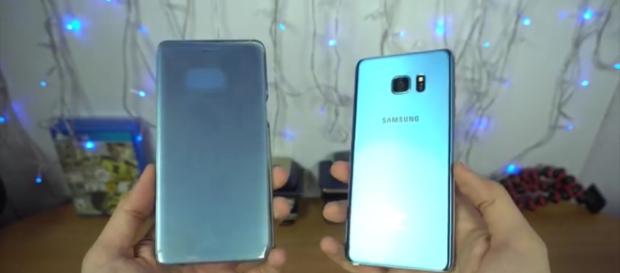 Samsung's #Galaxy Note 8 rumors have been flooding the internet since the beginning of this year. The company late last month announced that they were going to unveil their flagship phablet at an event titled, "Unpacked," on August 23rd. The most recent leak showcases the smartphone as carrying a whopping 256GB ROM. The device is also shown carrying the company's iconic digital S Pen stylus.
Everything you should know
According to a report published by Android Headlines, Samsung is expected to hold a press conference in New York on August 23rd, where the company will take the wraps off its new Note 8 smartphone. The device serves as the successor to last year's infamous Galaxy Note 7.
The company faced troubles due to the batteries that caused explosions through overheating, thereby ultimately forcing the company to recall the devices and permanently banning the line-up altogether. The launch of Galaxy Note 8 provides Samsung with a good opportunity to revive its lost glory.
The report further suggests that Galaxy Note 8 will probably be built out of metal on the sides and front; meanwhile, the back panel might be based on glass. The device's display will be curved – similar to the kind found on Galaxy S8 and S8 Plus smartphones. The company is expected to introduce two variants under #The Galaxy Note 8 smartphone i.e. one that will be powered by the Qualcomm Snapdragon 835 system-on-chip based on 64-bit octa-core, and the other one that will be based on the company's Exynos 8895 processor.
However, the one that is powered by Exynos 8895 system-on-chip might only be available exclusively in the Chinese markets.
Price and display details
As far as other specifications are concerned, the device is speculated to feature a 6.3-inch QHD Plus SUPER AMOLED Infinity display. On the storage front, the Note 8 is rumored to come featuring 6GB of RAM. The company might provide three options to choose from - 64GB, 128GB and 256GB ROM. According to a recent leak, the device will most probably house a 3,000mAh battery with Fast Charging technology support. The device is further rumored to sport a dual rear camera setup with two 13-megapixel sensors. The smartphone might run on Android 7.1.1 Nougat OS, and will probably be home to Samsung's custom UI. The device is expected to be priced at around £700, which is slightly more expensive than its siblings, Galaxy S8 and S8 Plus smartphones. Stay tuned for more tech news. #Samsung Galaxy Note