Chris Pratt attends first award show after his split with Anna Farris
Almost 2 weeks after their split, Chris Pratt was spotted at the Teens Choice Award and the actor was also seen without a wedding ring.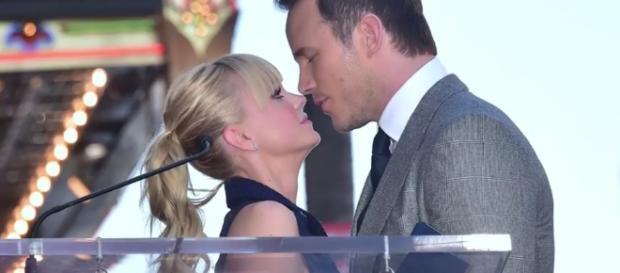 The announcement of the separation of Chris Pratt and Anna Farris devastated all their fans. The fans even posted sad messages on social media; while the internet was flooded with the news of the couple's divorce after 8-years of successful marriage. After posting about it on the public platform, both Anna and Chris didn't speak about it again. For the first time since announcing the end of their relationship, Chris Pratt stepped out into the public eye to attend the 2017 Teen Choice Awards.
Chris at an award show
The 38-year-old actor surprised his fans by showing up at the Award Show. The actor was given an award in the category of the Choice Sci-Fi Movie Actor for his movie "Guardians of the Galaxy." He stepped on stage to receive his award - a surfboard - and gave a shout-out to the makers of the film.
Chris, who is known for his calm and composed demeanour, also stopped by to shake hands with his fans on his way to the mic. Chris gave a wonderful thank you speech as he thanked God and his fans, while not mentioning anything about his personal life.
Upcoming movie of Chris Pratt
Beaming with joy, Chris appreciated everyone who supported him. He then thanked the "Guardians of the Galaxy" writer and director, James Gunn. he also confirmed that he is set to collaborate with the director for the third installment of the Guardians franchise film. This his news made his fans all the more excited. He thanked everyone while not showing off any of the difficulties he is facing in his personal life.
Apart from the award show, but Chris made sure to take his 4-year-old son, Jack to church in LA. However, the paparazzi could only capture the father-son duo, while mommy Anna was nowhere to be seen. Chris and Jack were smiling and were enjoying each others company, but sources have claimed that all is not well between the former couple.
It was earlier reported that both of them are still living together after their breakup, however, News.com AU indicates that everything is not hunky dory in their "La La Land." Chris and Anna met on the set of a film in 2007 and after Anna divorced her first husband, Chris had immediately proposed to her and the couple was very much in love. They spoke about each other proudly and always appreciated and admired each other's talent and company.
The post on social media clearly states that everything is not fine between the couple, but neither Chris nor Anna has spoken anything about it any further.
Click to read more
and watch the video
or