President Trump to impose sanctions over Russia
In retaliation to Russia's action over the US diplomats, Trump to sign some sanctions over Russia.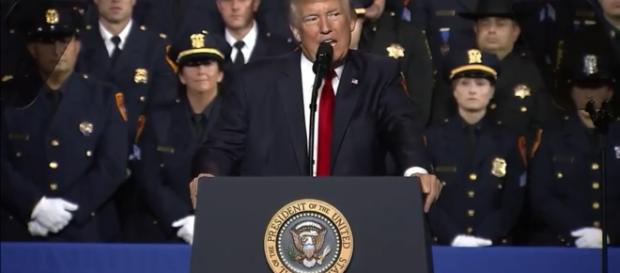 Reports suggest that US President is planning to impose more sanctions on Russia. Both the countries had even signed memorandum and Putin had acknowledged his meeting with Trump. But it seems like, everything was just temperamental.
Reasons behind the sanctions?
President Donald Trump has decided to sign a legislation that will impose some sanctions on Russia, reported the White House. This action was taken after Moscow decided to cut hundreds of diplomatic staff of United states and when it decided to seize two US diplomatic properties in retaliation for the bill. In fact, the US Senate voted unanimously on Thursday to slap new sanctions on Russia.
To improve the relations for betterment, Vladimir Putin had offered a warm gesture to Donald Trump when he decided to let the bygones be bygones by not talking about US expulsion of Russian diplomats and seizure of Russian diplomatic compounds.
But however, Russia's decision to do the same with the US by removing hundred of their US diplomats and seize two US compounds has created animosity between the two nations. And Russia's decision has also invited some trouble in the relations. As per reports, the White House issued a statement where it said that president Trump had made some changes in the legislation and will sign it soon.
President Trump always wanted to improve its relations with Russia, but everything has gone for no good since the findings from US intelligence states that Russia had interfered in the 2016 presidential elections. And now in terms of sanctions, the former super power- Russia has given America until 1st September, to cut its diplomatic staff in Russia to 455 people. With this, hundreds of people will be affected, whereas, Trump's final verdict and hold on the same is still yet to come.
The US will take further steps
Furthermore, it is also said that Russia would also lock down a Moscow compound used by US diplomats as well as a US diplomatic warehouse. Apart from this, Russia might make some drastic decisions as well. It might try to limit US air operations in Syria and some other actions taken might be more silent. Not only this, Russia might also consider for imposing some economic sanctions against the United States. Trump and Putin had met in G20 summit this month and had a brief talk about some further development projects. But with the ongoing tension, the improvement in relations between America and Russia seems likely dark.
Click to read more
and watch the video
or