From London to LA, people slept outside boutiques to get the Apple Watch
Yes, boutiques and not Apple Stores, where the new iGadget is nowhere to be found.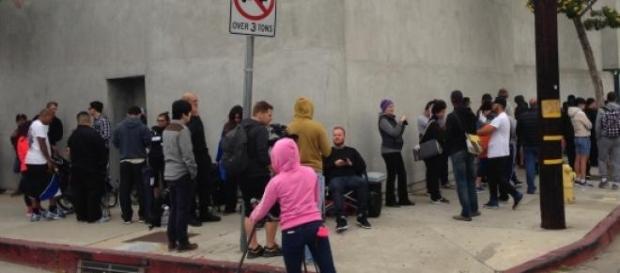 The good old waiting-in-line-for-#Apple-things is back. Even with pre-orders beginning two weeks ago and despite high prices for the novelty gadget, hundreds of people slept outside boutiques across the world to get an Apple Watch on its release day - Friday.
And that's really outside boutiques, not Apple Stores. Turns out pre-orders completely sold out the Watch and Apple Stores don't have it for sale right now. But boutiques do: in London, Dover Street Market proudly dolled up its store window with a huge pink heart, an Apple logo and the word Watch. Dozens of Brits lined up outside the shop, but only one couple spend the night to be the first in line.
A lot more people camped out in Los Angeles, outside the luxury boutique Maxfield in Melrose Avenue. The store had to hand out numbered tickets and stopped at 300, with an Apple employee warning people at the end of the line that they might not make it into the store before closing time, at 7pm.
In Paris, a little bit of history repeating - hundreds of people waited for fashion boutique Colette to open the doors on Friday morning, and the same happened in Tokyo, where a Dover Street Market branch carried out the Watch.
It's a phenomenon of sorts: every time Apple launches a new product, die hard fans make a statement by being among the first to buy it. The Watch retails from £299 (Sport) up to £9,500 (gold edition) and it's the first wearable produced by Apple. It's also the first entirely new product category to be designed without Steve Jobs, the co-founder who died in 2011.
Commercials have started rolling out in select markets, as the Watch is only available in nine territories for now - US, UK, Australia and France included. Production woes are apparently plaguing the new gadget, which might be why Apple doesn't have enough stock to sell it in their own stores - although the company has stated that it wished to avoid long lines on launch day (something that never bothered them in the past). Moreover, no additional markets have been listed in the product's rollout plan, which leaves a lot of consumers no option but to wait or to buy an overpriced version online from someone who is reselling it. #Smartphone