The incredible trio still ruling snooker
John Higgins makes it to the eighth ranking title for the class of 92 trio this snooker season.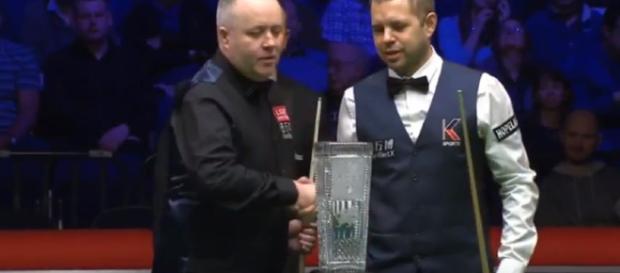 John Higgins Mark Williams and Ronnie O'Sullivan are still ruling snooker - 26 years on from all turning pro in 1992.
Wizard of Wishaw John Higgins added an eighth ranking title this season for the fabulous trio with O'Sullivan picking up four, Williams two, and Higgins two after winning a record fifth Welsh Open at the weekend.
Higgins beat Barry Hawkins 9 - 7 in Cardiff after a thrilling final which concluded the Home Nations series of events for this season.
The Class Of 92 also dominated this season's series, with Ronnie O'Sullivan kicking his winning spree into action by winning the English Open in Barnsley.
Then it was the return of a rejuvenated Mark Williams in Northern Ireland to land his 19th ranking title before he made the magical 20th in Germany this year.
However, Higgins, last weekend landed his 30th ranking title, putting him in third on the all-time list of players two behind Ronnie 0'Sullivan and six behind Stephen Hendry. His first came two years after he turned pro in 92, in 94. His first Welsh Open was all the way back in 2000, 18 years ago!
He overtakes O'Sullivan who had also four Welsh Opens. Between them, the class of 92 players have 82 ranking titles.
Celebrating with John Higgins on his #WelshOpen victory 🥂 pic.twitter.com/V7Ao3iNGZ4

— Ronnie O'Sullivan (@ronnieo147) March 4, 2018
Golden Oldies
What's incredible about the Home Nations so far is this: In the first series of the events, the average age of the winners from all four events was 38. Mark King, Stuart Bingham, Liang Wenbo and Marco Fu all contributed to making it a great first series.
However, with the top trio of Williams, O'Sullivan, and Higgins all scooping three out of the four Home Nations events this season, this sees the average age increase by two years to 40.
It's another indication of just how the Golden Oldies are still ruling snooker well into their forties and at the moment, the trend is unlikely to buck unless the younger players begin to step up to the plate and produce the goods.
Ronnie O'Sullivan has well documented on Eurosport the reason why the top trio is still competing and winning tournaments, and that's because they flourished from a great junior amateur circuit back in the day.
He added earlier on in the week that those who turn pro now don't know or haven't learnt the "other side of the game," namely, safety and tactics in match play.
However, the Welsh Open also saw progress for players such as Noppon Saengkam from Thailand, who managed to reach his first ranking semi-final and put on a great performance.
There was also progress for Gary Wilson, a former China Open finalist, but the strength of Higgins was too much for him in the semi-final.
In the final, Higgins and Hawkins produced some top snooker with breaks of 141 and 138 from Higgins and 138, 130 and 103 from Hawkins.
There were also some pressure dish clearances where players had to come from behind to win a frame.
Positives for Hawkins
Winner Higgins also landed £2,000 for the high break of 144, making his earnings for the week 72K. Higgins said after on Eurosport: "One of the most enjoyable finals I've ever played."
Even top players get nervous as Higgins remarked: "You're not human if you don't get nervous." Hawkins said Higgins's victory just shows you how good a player he is, and added that he took the positives from his week in the Welsh Open after devastating news off the table this season.
With O'Sullivan Williams and Higgins all in the form of their life, the Crucible this season will make for compelling viewing.
There are still four ranking events left including the Gibraltar Open which begins at the end of this week, the Players Championship and the China Open before the big one in Sheffield in April.