New, shiny stadia: are they worth it?
During the franchising system, a lot of emphasis was put on having up-to-date facilities, including a new stadium. But, are these stadia worth it?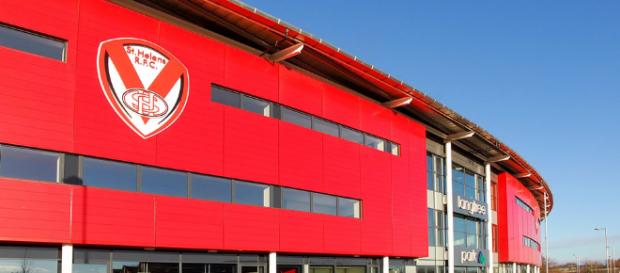 During the two franchise licensing periods (2009-2011 and 2012-2014), brand-spanking new stadia were on the agenda for many Super League clubs. Salford and St Helens moved in to their respective homes ahead of the 2012 season whilst Castleford and Wakefield had new homes in the pipeline - though both plans were later scrapped. And, whilst the Tigers' proposed new home near Junction 32 looks to be edging closer, Trinity's Newmarket development has stalled once more. But, these shiny new facilities - though often crucial for generating greater income - come with baggage.
Create jobs
Building a new stadium in the current economic climate is tough, but if the work goes ahead, it can only benefit the local community.
The proposal for Castleford's new stadium on the Axiom development site is set to deliver in excess of 2,000 new full-time on-site jobs with around 1,100 full-time construction jobs over the three-year build period. Such jobs will be available to local people, with specialist training academies and programmes to be established throughout the development phase in order to aid those that will be working there.
No doubt then, in a community which has seen many being made redundant from the closure of Nestle's Castleford factory, Ferrybridge power station and just over the North/West Yorkshire border at Kellingley colliery, the creation of thousands of jobs will be a welcome sight in the area. The same could be said of other new grounds that have been built recently such as Warrington's Halliwell Jones, Saints' Langtree Park and Salford's AJ Bell Stadium: they all needed workers to build them and an expansion of staff to serve in them.
Generate income
New stadia are key in generating more income for a club. Some supporters advocate re-developing their old ground so as to avoid relocating. Yet, creating the necessary facilities on an old site would be a very tough ask and sometimes it's just better to start from scratch as the space just simply isn't there. Plus, having a new stadium attracts the eye of organisers - of not just Rugby League - up and down the country.
Salford's new home at Eccles hosted the 2012 Challenge Cup semi-final, the 2012 Autumn International Series and the USA v Scotland fixture in the 2013 Rugby League World Cup. Leigh's Leigh Sports Village - which opened in late December 2008 - hosted back-to-back Challenge Cup semi-finals in 2013 and 2014 whilst Elton John even held a concert there in 2014 with 17,000 eager fans watching. The Halliwell Jones Stadium at Warrington is one of the most popular for Challenge Cup semi-finals, the Championship Grand Final as well as international fixtures - two games of the 2013 World Cup were held there for example.
Old, dilapidated stadia just simply cannot offer the same high level of facilities as new ones. Plus, in an era where health and safety is becoming increasingly important, constant work has to be done to old grounds in order to keep up them to Rugby League standards. After years of usage with hundreds of thousands of people having walked on them, terraces at grounds such as Castleford have become dangerous. In fact, the Tigers have had to close off areas of their open-air Railway End stand because of safety fears - such fears would be erased if Castleford do indeed move home.
Possible new fans
A new stadium can sometimes bring in new, interested fans or even older, disillusioned fans, wanting to see what the new facility is like. Furthermore, if those particular fans get hooked, the club benefits from added ticket sales, perhaps even merchandise sales. Warrington's old ground at Wilderspool had a capacity of just 9,200, plus, it was ramshackled and run-down after over 100 years of usage. Because Wilderspool was limited to less than a 10,000 capacity and the stadium itself was not very inviting, new fans were unlikely to ever step foot on the terraces.
The move to the Halliwell Jones in 2004 brought new opportunities to win over local interest. A now 15,200 capacity and incredible up-to-date facilities is unlikely to turn away any potential interest - though the action on the field might. A record of 15,008 was set in 2016 against local rivals Widnes - a massive 6,000 more spectators than what could fit in Wilderspool.
Atmosphere
Yet, the old Super League grounds at Castleford, Wakefield, Hull KR and Leeds - though the latter two have re-developed their stands - produce the best atmosphere. The fans are nearly on top of the field and every word aimed at one of their own players or one of their rivals is heard by those on the pitch. Leeds have undergone a massive rebuilding program at their Headingley ground, but it still boasts one of the most intense atmospheres in the game and that is because the original aura of the place is still present. Too many times I have been to an away game at grounds such as Huddersfield's John Smiths Stadium, Wigan's DW and Salford's AJ Bell and the atmosphere is so bad you can almost hear a pin drop at points in the game.
Now, a critic could argue that it depends on which team is at home to the kind of atmosphere generated, but the contrast, for example, of the crowd noise at The Willows to Salford's new AJ Bell Stadium is remarkable. Wigan's Central Park, Saints' Knowsley Road, Hull FC's Boulevard and Warrington's Wilderspool all produced electrifying atmospheres - though Hull and Warrington still boast great noise levels on match days. The match-day experience in the often ghostly new stadia is poor to say the least, whilst there is nothing quite like the Mend-a-Hose Jungle, Belle Vue or Headingley when the crowds are at their most raucous.
Problems off-the-field
Moving to a new stadium can also bring with it serious issues. It is well-documented the problems that Salford have had since their move away from The Willows. The new stadium at Barton cost £26 million and officials, at the time, said that funding for the construction work would come from a loan from the city council. The club said that it would repay the loan through the sale of the developed land to retail tenants and through income generated from the use of the facilities. But, with the new ground so far away from town or city life at all, Salford struggled - and still do - to pull in anything like the sort of crowds they achieved at their old ground that would see them reap the rewards financially.
Salford's last home game at The Willows pulled in over 10,000 fans - the club has been lucky to attract even half of that number since they took residence at the AJ Bell for the start of the 2012 season. The move was a disaster - most fans would want to return to The Willows given half a chance - and the club were on the brink of administration before Marwan Koukash took over in January 2013. The example of Salford is perhaps an anomaly - Warrington, Hull FC, Wigan and St Helens have all seemed to benefit from moving to a new stadium - but the potential for such a move to go wrong is quite harrowing.
Necessary, but upsetting
Whilst there is a current stigma attached to old Rugby League grounds - indeed, Castleford and Wakefield are often the butt of criticism for their old-school grounds - there is just something about them that new stadia cannot produce. They are full of life, full of experience and full of memories that simply cannot be replicated in a soulless, yet impressive, facility. Those players that come from Down Under gaze in awe at the amount of noise a few thousand people inches from the field can make and this is what makes Rugby League special in this country.
Wheldon Road, Belle Vue and Headingley are the life and soul of the sport, but, in this day and age, if a club does not move with the times, they get left behind. It's sad, but in a decade or so, there may be no old-style grounds left. Castleford and Wakefield have to move if they want to continue to thrive; let's face it, no competition planner or concert organiser will hold a significant game or concert down at Wheldon Road or Belle Vue and, for this, the clubs get punished. A new stadium is key to generating that all-important revenue to drive a club to greater standards off the field - which will then lead to greater investment and improvements on the field - whether we like it or not. #RugbyLeague #RL #SuperLeague