Does Rugby League have a drugs problem?
In recent years, the use of both performance enhancing drugs and cocaine has increased in the sport, is it time to admit the sport has a problem?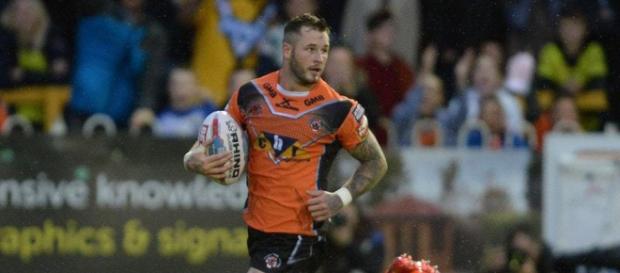 Whilst the sport of Rugby League strives to pursue the image of a "family game", actions over the past few years concerning substance abuse has often tainted this notion. In 2017, Rangi Chase, Adam Walker and Zak Hardaker failed drugs test - all allegedly for cocaine - whilst NRL stars Shaun Kenny-Dowall, Jesse Bromwich and Kevin Proctor were also found to be guilty of charges relating to drugs. Though drugs - and particularly cocaine - are infiltrating ever more into society itself, Rugby League needs to act fast to stamp out a potentially widespread issue.
Increasing use
Zak Hardaker, sacked by Castleford Tigers in late February for failing a drugs test, is not the first – and he certainly won't be the last – to be sanctioned for the use of banned substances.
Before Hardaker's indiscretion following the Tigers' Super 8s game against Leeds in September 2017, mercurial but wayward talent, Rangi Chase, was suspended from all training and playing activities by the RFL under the regulations of the UK Anti-Doping Agency (UKAA) after testing positive for cocaine.
Chase was, at the time, plying his trade with Widnes Vikings – a club whom he had only signed a permanent deal with in July last year - and was later released after being banned from the sport for two years. Likewise, just a day after the revelation that Chase had failed a drugs test, Wakefield prop Adam Walker was given the same treatment by the RFL and suspended by Trinity, though the outcome of his hearing remains a mystery.
Both Chase and Walker were tested in following Wakefield's victory over the Vikings on 14 July.
The fact that two opponents from the same game had been found guilty, makes it likely that these two were not the only ones to have taken the Class A drug after the match. This is especially probable when considering that drug tests are often randomly conducted – only a few are tested due to tip-offs about certain players.
Although the outcome of Hardaker's and Walker's cases are still in limbo, the result of both are perhaps destined to yield two-year bans. Wind the clock back to 2009 and Gareth Hock was banned for the same period following a positive drugs test for cocaine. More recently, Leigh hooker Sean Penkywicz was banned for taking a growth hormone in August 2015. Meanwhile, current Super League stars Albert Kelly and Ben Barba would still be playing Down Under if they had not been found guilty of doping and cocaine charges in 2014 and 2017 respectively.
The NRL has an even bigger problem
The issue is not just confined to these shores however, the NRL - whether they want to admit it not - has gone through much greater controversy relating to drugs and doping than the British leagues have.
In 2013 winger Sandor Earl was given a whopping four-year ban for doping offences. However, the drugs issue has seemingly ramped up a gear in the past year. In May 2017 Sydney Roosters' three-quarter Shaun Kenny-Dowall was caught in possession of cocaine at a Sydney nightclub. As a result, Kenny-Dowall had his contract revoked by the club, though he was snapped up by Newcastle Knights in June after escaping conviction.
New Zealand captain, Jesse Bromwich, and Gold Coast Titans co-captain, Kevin Proctor, also found themselves in the spotlight after being allegedly filmed taking illicit drugs following the Kiwis' loss to the Kangaroos in Canberra of May last year. Consequently, the duo were told that they would play no part in the 2017 World Cup for the All Blacks. And, to make matter worse for the Australian game, Cronulla Sharks chairman Damien Keogh was forced to resign after being charged by police for allegedly possessing drugs when searched in Woolloomooloo, just a day after Proctor's and Bromwich's misdemeanour hit the news.
What is even more concerning for the game as a whole however, is the fact that the NRL has not just been hit by individual errors, but by team infringements too. The famous Cronulla Sharks supplement saga damaged both the club's and the league's reputation. An investigation into the legality of the Sharks' supplement program during the 2011 NRL season and the preceding pre-season - an investigation which started in February 2013 by the Australian Sports Anti-Doping Authority (ASADA) and the World Anti-Doping Agency (WADA) - hit the Australian league incredibly hard.
In August 2014, a host of Cronulla players were found guilty of having used the banned peptide CJC-1295, resulting in the suspensions of nine players. Five more alleged to have been involved in the program, but whom were not among the group which admitted guilt and whom were banned in 2014, were found guilty in 2016 and given 12-month suspensions, though the suspensions had already expired.
Among the nine in the former group were current Hull FC star Albert Kelly, NRL veteran Paul Gallen and former Wakefield forward Anthony Tupou whilst Paul Aiton and Ben Pomeroy were amongst those charged in 2016. Even several senior members of staff, including coach Shane Flanagan and trainer Trent Elkin, received penalties and suspensions. The revelation not only rocked the Cronulla club, but the whole of the NRL; a team - from top to bottom - had conspired to cheat.
Why?
One can almost understand athletes taking PEDs if they feel they aren't good enough as natural sportsmen, but why is drug use, particularly that of recreational drugs such as cocaine, becoming more frequent in Rugby League? Players could find themselves without a job for four years and thus a loss of income if found guilty as well as numerous health implications both short-term and long-term. A player with family commitments stands to lose everything for a selfish act.
Yet this does not – and has not – stopped players from taking them. With more thorough testing, there will inevitably be more and more stars being found guilty. But is it a problem exclusive to Rugby League or society and sport in general? Since UK Anti-Doping was formed in 2011, there have been considerably more athletes in Rugby Union and Football that have served suspensions relating to the stimulant found in cocaine than in Rugby League.
Societal issue
Drugs seem to be creeping into Rugby League on a greater scale than ever before, but the same can be said of drugs in society too. In the current climate, drugs are used almost as carefree as one drinks alcohol or smokes. It also doesn't help that Rugby League players are often young and inexperienced and can be easily swayed by those that they surround themselves with. A player may act all honest and genuine up-front to the media or even their own club, but a damaging friendship group can soon destroy this mature-looking exterior.
The ease of which drugs can now be obtained within society is the butt of the increasing problem. Too often a person knows a friend of a friend that can supply them with the goods. Rugby league players take a battering each week; perhaps then this drug use is a way of 'letting go' from the rigours of training and match days. Perhaps there is an actual addiction at large or perhaps a player just wants to maintain the act of bravado in front of his friends - people, whom, if they were true friends, would ensure the player stayed a million miles away from any substance which could cost him his career.
Legend of the game, Garry Schofield, in his customary style, did not mince his words when commenting on the Hardaker revelation and the use of drugs in the sport. "The game is rife with cocaine. I know of players, including some very high profile ones, who've taken it and anyone who says it's not a problem in rugby league is telling lies." If the sport does not nip this in the bud soon - with more thorough and widespread testing - society's problem could well become a major Rugby League issue. #RugbyLeague #RL #ZakHardaker